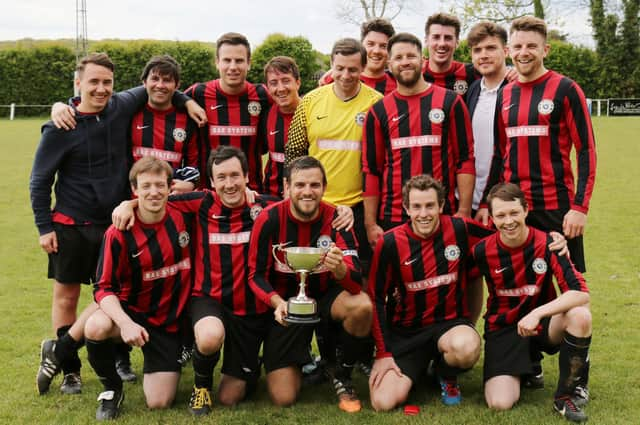 Dave Bridger holds the Len Den Cup as Carberry celebrate their 2-0 win over Horndean United in 2016/17. Picture: Kevin Shipp
MSL officials split the 13 clubs into two divisions once lockdown restrictions were eased, in order to complete the season on a home and away basis.
With new clubs keen to enter the league, the plan is for a two-division structure in 2021/22.
Carberry are favourites to win this term's Division 2, needing just five points from their last three games.
Bridger said: 'We are probably better off in the second division - I'd say that's definitely our level.
'We were getting taken apart when we played the top teams, losing by seven or eight.
'If we were a Premier League side, we'd be like West Brom or Norwich - yo-yoing between the two divisions.'
Bridger, a former Carberry player-manager, resumed first-team duties last autumn after James Willis had stepped down for personal reasons.
'I was a bit of a reluctant manager,' said Bridger. 'We'll have talks after the season is over to see what happens moving forward.'
Bridger is one of a core of long-serving Carberry players, having made almost 300 appearances in the club's Portsmouth League and MSL career.
Rich Flower is the appearance record holder, with 315, while other stalwarts are Dave Clarke, Jay Robinson, Dean Carter and Matt Bodkins.
Three wins against Rowner, Horndean and Segensworth - the bottom three in a six-team Division 2 table - will see Carberry lift the title.
They have only won a single trophy during Bridger's time at the club - the Len Day Cup in 2016/17.