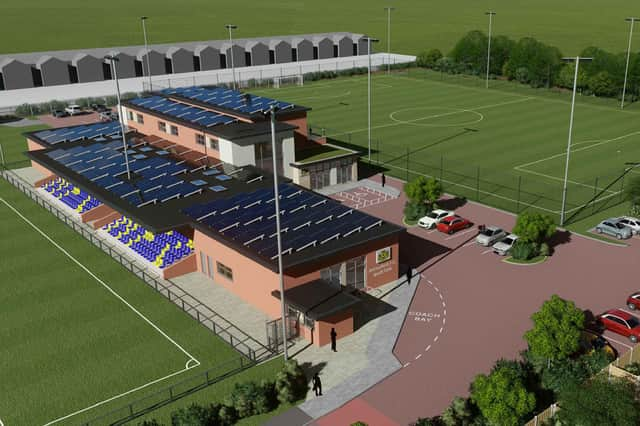 A CGI of how Moneyfields' redevelopment of their Dover Road facilities will look
And the long-standing clubhouse will be the first landmark to fall as part of the £3.5m project, which will feature two full-size 3G pitches - one.
Originally planned to begin last summer, the pandemic has put the development back by more than six months.
But everything is now in place for work to start on the site in 'mid-March or by the end of March.'
Moneyfields' Dover Road home is set for a major transformation with the 1,180 capacity John Jenkins Stadium being home to two all-weather pitches as well as gym facilities and a new-look social club.
Moneys chairman Pete Seiden, who told The News last year the club would have '100 per cent' folded had it not been for the project, revealed developers will start by knocking down the clubhouse.
But that will not impact on Moneyfields' first team - inactive at present because of the 'non-elite' football suspension - continuing to play home games at the site.
'I spoke to the developers last week and all systems are go, they're looking to make a physical start in March,' said Seiden.
'Even with everything that's going on, we've had all the surveys going on and as a football club are clearing everything out of the club currently.
'The first thing will be to knock the clubhouse down, that's the plan for that to go first, so they can put the new road in and everything works off of the road then.
'We're going into a temporary clubhouse.
'We've got some old dressing rooms that aren't used and the developer is going to help us convert that into a temporary bar area.
'We're going to use that temporarily because the football will still go on while the developments are ongoing.
'It won't be anywhere near the size (of what we've currently got) but it'll be somewhere both teams can go because that's the criteria for this level.
'The developers are going to help and assist the club, which they don't have to do, but they've kindly said they'll help us do that.'
Seiden admitted playing at Dover Road while redevelopment is ongoing will not be ideal.
But he insists the project - overseen by Pompey in the Community - will be a real benefit to the club and wider community once it is completed.
Seiden said: 'It's going to be tough, I'm sure there'll be many challenges while the development is going on, but the developers have been really good.
'We're going to move the entrance so no-one has to go near the building work.
'You put up with a bit of pain - I just want to see it start - but we'll link up with Pompey in the Community and the whole thing will hopefully run like clockwork.'