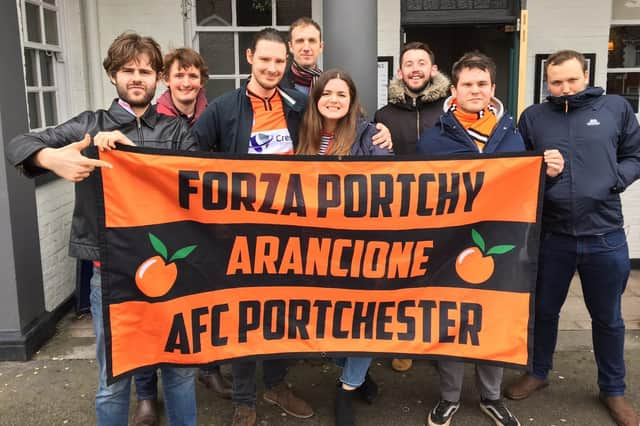 Lewis Millington, third left, with fellow members of The Arancione, the AFC Portchester supporters' group.
The founding fathers and players of clubs such as Manchester United and Manchester City, whose existence began in the shadows of Victorian industry and railway depots in Manchester as Newton Heath (United) and Ardwick (City), must have been rolling in their graves at these proposals, writes LEWIS MILLINGTON.
Football in its essence, is a sport. A sport that unfortunately has been corrupted with hyper commercialisation and economics. It's transmission beyond our shores to several far flung continents has no doubt brought some of the greatest players to Europe's elite leagues, due to the astronomical television deals that are exchanged to secure the rights to this 'product'.
But it is clear that the globalisation of the Premier League has also played into the hands of those who do not understand the cultural intrinsics that make up the dimensions of our sport in England and continental Europe.
Chelsea fans protest against the proposed European Super League at Stamford Bridge last night - the Blues announced they were withdrawing from it shortly after. Photo by Frank Augstein - Pool/Getty Images.
Joel Glazer, the Manchester United co-chairman, does not understand the excitement of getting up on matchday and travelling to a game with your mates on the coach, stopping at Chieveley services for a Burger King and beers.
Florentino Perez, the Real Madrid president, doesn't understand the beauty of visiting bang average backwaters across the UK on away days, with the Tesco Express scoring top on Tripadvisor.
I am pretty sure John Henry does not care for Ronnie Radford's piledriver for Hereford from distance into the Newcastle net; a iconic giant killing moment in FA Cup history.
The global flotation of our top tier clubs in the UK on the stock market was always going to have its dangers. The ship has long sailed for any hopes of the Premier League bringing in a system of the '50+1' fan owned rule as seen in Germany today.
Chelsea fans protest against the proposed European Super League at Stamford Bridge last night. Photo by Mike Hewitt/Getty Images.
These greedy offshore owners will be difficult to budge - although the tsunami of negative press these last few days might have made them think.
However, I for one am taking the positives from these proposals.
This is a wake up call for people to rethink where to place their support.
The European Super League may be dead but the legacy of these clubs' decision making will live on.
We must now use this moment in time with all eyes on the sport to enact change and get behind football where the fans really matter and make a difference: non-league.
For Manchester United there is FC United, for Arsenal there is Fisher Athletic or Dial Square FC. Chelsea fans should go check out Dulwich Hamlet.
Stop lining the pockets of these clubs run by money-grabbing parasites and go and invest your time and cash into your local non-league side. Not only will you feel extremely valued as a supporter, but you will see your money going towards something worthwhile and progressive.
My local club, AFC Portchester, one of the largest community clubs in Hampshire, has certainly benefited from the lack of live football at elite level during the pandemic, recording a 125 per cent increase in attendances on the previous season.
Not only has the club been using increased crowd revenue and bar turnover to improve the matchday experience - a PA/music system and an electronic scoreboard have been installed this year - but they have also provided a great deal of outreach for people in their local community through food banks.
This is also by no means unique to Portchester - you only have to look down the Peninsula at the fantastic work Gosport Borough have done during lockdown, along with several other non-league community clubs nationally.
Running our fans group, The Arancione, has also further opened my eyes to the importance of going to live non league football for fans.
Several supporters rely upon their club for their social circle, mental release at a weekend, as well as a clear purpose and sense of belonging.
We have volunteer stewards, groundsmen and media officers. These people are VALUED like family and are not, to quote Pink Floyd, just 'another brick in the wall'.
The choice of how to engage with your football is only getting clearer by the day. Stop subscribing to memberships to the big six, buying their rip off replica shirts - filling the pockets of the fat cats.
Get down your local non-league side where we are still, as fans, 'in control' of the fate of our English game.
I hope that the subsequent disillusionment with elite football will see you voting with your feet, visiting your local non-league club, and helping them grow.
You can be a key cog in their journey.
You are certainly welcome on the terrace at Portchy; we can confirm we rejected the opportunity to join the Super League.
After all, football is for fans, a religion, a tribe - it's not a consumer transaction.
Lewis Millington is the founder of AFC Portchester fans group The Arancione (the Italian word for 'orange', the colour of Portchester's home shirts).