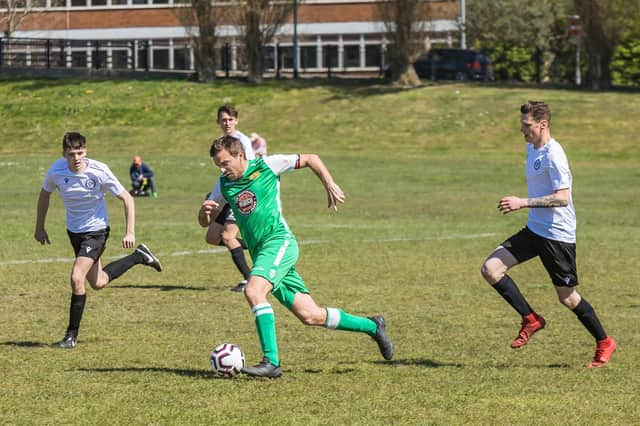 George Barton, right, scored for East Lodge as they ended their debut Mid-Solent League campaign with a 3-1 victory over Rowner Rovers. Pic: Mike Cooter
League officials are expected to create two divisions next season with Fratton Trades and Harvest Reserves being voted in.
There could also be a Burrfields reserve team, but Division 1 champions-elect Meon Milton are hoping to be accepted into the Hampshire Premier League.
If all that happens, the league will have a total of 15 teams - two more than in 2020/21.
The MSL was split into two divisions once lockdown restrictions were lifted at the end of March, in order to ensure seasons could be completed on a home and away basis.
Lodge, in their first season in adult football after winning the MSL Under-18 division in 2019/20, finished runners-up to Carberry in a six-team Division 2.
In their final game Lodge defeated Rowner Rovers 3-1, despite only having a squad of 11 players.
'We had to work hard,' said Davies. 'But we pressed high and fully deserved to win - I think 3-1 flattered Rowner, it could have been four or five.'
Andy Fitzgerald put Lodge in front with Rovers levelling before half-time.
A George Barton penalty restored Lodge's advantage in the second half before Taylor Davies added a late third.
'I don't know what the league are going to do, but I'd definitely like to be in Division 1 next season.
'We'd really look forward to it, and I think we could compete with the top teams.
'We only lost 3-1 to Meon Milton in our first game and we were all over them for the first half-hour.
'Then we only lost 2-0 to Mob Albion and that was a really competitive game.
'We might lose a couple to University, but I'm sure we'd have just as strong a squad next season, if not stronger, if the league allow us up.'