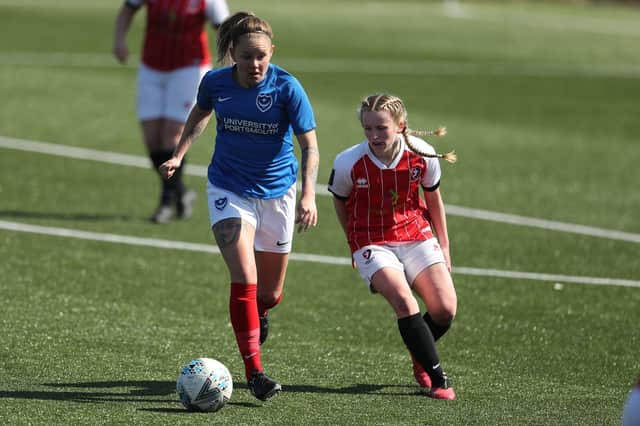 Katie James in action for Portsmouth Women's against Cheltenham Town in the Women's FA Cup earlier this month. Picture: Dave Haines.
The 25-year-old Portsmouth Women player has to pay her own costs if she wants to represent her country in Portugal this summer.
James, along with her international colleagues, need to raise £500 each in order to cover costs during the tournament which runs from June 15-21.
Entirely self-funded, all England women beach soccer squad members have had to generate their own sponsorship to ensure they can enter competitions across Europe and globally.
Katie James celebrates an England Beach Soccer victory.
Reluctant to approach a business for commercial sponsorship given the pandemic, James will cycle 40 miles next month and has set up a 'Beach Soccer fundraiser' page on Facebook to raise funds.
She is closing in on her target already and plans to do the 40-mile cycle on May 31 - after a weekend beach soccer training camp in Poole.
James said: 'I was actually quite shocked because I'm always a bit scared to do things like this.
'I'm always like, 'what if nobody gives me anything' then nothing happens from it.
Katie James, left, wearing the Three Lions on international Beach Soccer duty
'I've got quite a lot (of funding) pretty quick so it's been great.
'Trying to find commercial sponsorship at the moment is quite difficult because businesses are not in the best position anyway.
'I just want to say thanks and I'm really appreciative of it (sponsorship money).
'I'm quite surprised by the support I have got from people who I don't know.
'For them to put money into something they're not necessarily familiar with is great.
'It just shows that there are a lot of good people in the world.'
James' already packed schedule is about to get a bit busier as she starts to step up her training ahead of her 40-mile cycle.
Currently, she juggles her time working an admin job, beach soccer training between Portsmouth and Poole three times a week and Pompey Women's sessions at Westleigh Park on Wednesday and Friday evenings.
She is hoping the hours she puts in wins her selection for the 10-strong England European Cup squad.
'It's hard (training and playing schedule) but I love both of them so I don't really want to have to pick and go down one route,' James remarked.
'I want to be able to keep balancing both and deal with the aches and pains after.
'I rode about 50 miles when I was younger in a British Heart Foundation charity event, but I haven't ridden a lot since then.
'I was going to do longer but I thought I might injure myself.'