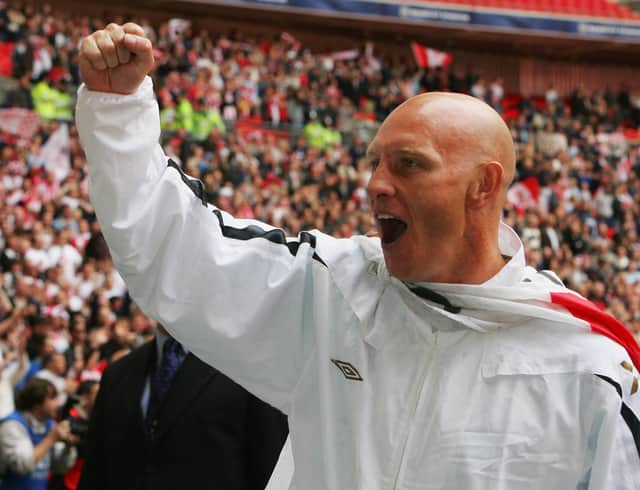 Mark Stimson celebrates after Stevenage Borough had beaten Kidderminster Harriers to win the 2007 FA Trophy. Photo by Phil Cole/Getty Images.
Stimson, who made more than 50 appearances for the Blues after signing from Newcastle in 1993, takes his seventh-tier outfit to non-league giants Notts County for Saturday's semi-final following a run which has seen the Urchins claim FIVE higher-division scalps to date.
The 53-year-old has won the competition four times across his playing and managerial career – lifting the trophy in three successive seasons while in charge of Grays Athletic and Stevenage – but says this time 'feels different' as he plots the latest chapter in a remarkable tale, writes PAUL MARTIN.
'For Hornchurch to get to a semi-final is on a par with a top-half National League team getting to the final because of the division we play in and the amount we can train,' he said.
'When I was at Grays and Stevenage, we expected to get to the semi-finals – at least. But none of our players at Hornchurch had even been to a quarter-final, let alone a semi-final.
'The chance to get to a final in one of the best stadiums in the world is dreamland for players at our level.
"We have to try and keep a lid on it and hope we peak at the right time to cause another massive surprise.
"I'm fortunate – my dream has been made. I just hope the players can achieve what I was very fortunate to achieve and go to that fantastic stadium. I'll be talking about it for the rest of my life.'
The Urchins' progress is made more impressive by the fact they have not played an Isthmian League Premier Division game since November 3, but they make the trip to Meadow Lane full of confidence.
So they should after beating higher division opponents in their last five rounds - NL South trio Tonbridge Angels, Dulwich Hamlet and Maidstone, National League club King's Lynn (via penalties) and NL North Darlington.
'I'm so proud of the players for what they've done so far,' said Stimson, who won the Trophy as a player with Canvey Island in 2001. 'You go right back to the second round (v Tonbridge), we got a last-minute winner with 10 men.
'We've had another last-minute goal in a 5-4 win (v Maidstone), our goalkeeper has saved three penalties in a shootout, we've gone up to Darlington and won – it has been brilliant to be a part of.
'For me personally, I've had no other job to go to so this run has been absolutely massive. I can't put into words what it's done for me mentally and it has been a huge help to have these games to look forward to.'
Stimson's side are one of 228 Trident League clubs supported by Pitching In, whose landmark partnership with the Northern Premier, Isthmian and Southern Leagues also benefits the likes of Moneyfields and Gosport Borough.
In addition to financial support, the initiative – set up by Ladbrokes with the support of its owner Entain – highlights the importance of non-league clubs to their communities and Stimson hailed the fundraising efforts of Urchins supporters, who have raised more than £6,000 in recent weeks.
'It allows us to prepare properly, travelling up the night before, and we'll be able to make ground improvements as well,' he said.
'I can't wait to thank them all in person when we can and hopefully we'll give them another enjoyable Saturday afternoon this weekend.
'This is the toughest draw we could have got but I've got loads of confidence in the boys. It's a hugely exciting tie and we can't wait.'
Notts are sixth in the National League, two divisions higher than Hornchurch, and last month knocked out Hawks in a fifth round tie at Westleigh Park on penalties. They sacked boss Neal Ardley earlier this week, though, and installed Ian Burchnall in his place.
NL North club Hereford host Woking in the other semi-final.
Ex-Hawk Moussa Diarra scored the only goal in the Cards' midweek National League win at Wealdstone. Even though he didn't rejoin Woking until late January, the defender is not cup tied as he wasn't included in the Hawks teams that beat Bracknell and Braintree before Christmas.
Ladbrokes, with the support of its owner Entain, has launched a multi-million pound investment programme, Pitching In, designed to support and promote grassroots sports. For more details see: https://entaingroup.com/sustainability/pitching-in/