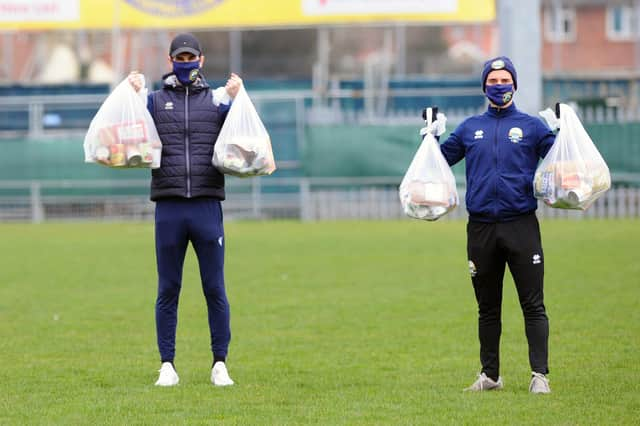 Matt Paterson and Pat Suraci with some of the food parcels they have delivered as part of the Gosport Borough 'Feed a Family in Need' scheme which has now been running for 300 days. Picture: Sarah Standing
The brainchild of Gosport Borough FC chairman Iain McInnes, the club's 'Feed a Family in Need' campaign was designed to provide food parcels to the most needy and vulnerable in their local communities.
An online Crowdfunding page initially aimed to raise £2,500. That target was quickly smashed and donations are still coming in. As of this morning, over 230 people have contributed £9,731.
In all, the club have delivered more than 5,300 food parcels since the scheme began. They are still delivering over 100 a week - last week the figure was 113. It has been as high as 130.
Debra Redpath, community co-ordinator for the 'Feed a Family' scheme, with some of the fruit and vegetables donated by Boxxfresh in Titchfield. Picture: Sarah Standing
It's been a superb response to a national health crisis, and Borough's efforts have brought them national acclaim.
They have been nominated by the Football Supporters Association for their non-league Lockdown Heroes award.
The Southern League Premier South club are on a three-club shortlist along with FC United of Manchester and Clapton Community FC.
Clapton's Hardship Fund has raised almost £11,000 since it was launched last spring, while FC United's Broadhurst Park ground was converted into a foodbank hub.
Lisa Grundy, one of the Gosport Borough FC youth team managers and a 'Feed a Family' volunteer. Picture: Sarah Standing
Debra Redpath - the former headteacher at Rowner Infant School in Gosport - has been the main coordinator for the 'Feed a Family' scheme since last summer.
She took over from Privett Park bar manager Keith Slater when pubs and social clubs were allowed to reopen at the end of the first national lockdown.
'We're very, very excited to be nominated,' Redpath told The News.
'It's lovely to have the publicity to keep it all alive.
Gosport Borough FC players Pat Suraci and Joe Lea loading 'Feed a Family' parcels into cars for deliveries. Picture: Sarah Standing
'People can see we're still going so they can donate to the scheme if they want, or if they need help from the scheme.
'It does make you feel good about yourself, which is important.
'Our volunteers do give up a lot of their time. They don't do that to get recognition, but it's nice when they do get recognition.'
When the first lockdown was announced, the Government - via DEFRA (the Department for the Environment, Food and Rural Affairs - provided weekly food parcels to the most vulnerable in the UK.
Jane Humber, one of the 'Feed a Family' volunteers making up the food parcels at Privett Park. Picture: Sarah Standing
The parcels were delivered by NHS Volunteer Responder scheme volunteers, and more than a million were delivered to those in need. But that scheme ended last July and hasn't been brought back in any of the two national lockdowns since.
That has ensured demand has always been high for schemes such as 'Feed a Family', where volunteers have been distributing parcels every weekday between around 10.30am and 1.30pm.
That demand, says Redpath, has risen substantially since the end of October.
She works with Newtown Primary, Rowner Infants and Elson Junior, delivering weekly parcels to those schools.
Boro also receives weekly food donations from a variety of sources - including supermarket giant Morrisons and Titchfield-based Boxxfresh (fruit and vegetables).
The local co-op on Privett Road donates daily any items that are close to their sell-by-date, while FareShare - a nationwide charity that prevents food from being wasted and distributes it to other charities - deliver every fortnight.
Redpath also works with four other agencies that form the Gosport Food Partnership, ensuring no-one in need slips through the net spread as far across their communities as possible.
They are Jacob's Well, the Salvation Army, Bridgemary Family Church and Gosport Voluntary Action.
In addition to a band of volunteers, a handful of Boro players have been delivering parcels as well.
Shaun Gale's squad have not played a competitive fixture since the Southern League was paused at the beginning of the November lockdown, with the 2020/21 season almost certain to be declared null and void for the second year running.
Since the middle of last March, Gosport have only played a handful of friendlies, seven league games and a sprinkling of cup ties.
Last week striker Matt Paterson joined Pat Suraci and Joe Lea - the two players who also coach at Boro's Centre of Excellence - to help with deliveries.
Redpath said: 'I've always been part of the community - it's very rewarding to be part of something like this.
'I think a few of the players have been shocked, they've had their eyes opened.
'Hopefully it will make people appreciate things a bit more.
'People can be fooled into thinking Gosport on the whole is a well-off place, but there's huge areas of deprivation.'
As well as donations to the Crowdfunding page, the club are still receiving occasional food donations from members of the public.
'It's been lovely to see people give their time or money, we've also had lots of supportive emails - every little thing helps,' Redpath added.
'We aim to keep this going for as long as we can. People are going to be affected by this for a long time, people have had to eat into their savings …
'We've now delivered over 5,300 food parcels. That's a huge number
'It's good we've been here, as I'm not sure any other agency would have been able to pick those numbers up.'
Redpath herself does any weekly shopping that's needed to top up the parcels.
She regularly visits different supermarkets in order to try and get the best value for money.
'You'd be surprised at how much the price of a tin of beans varies from place to place,' she said.
'We have had grants from Gosport Borough Council and Hampshire County Council and we're always on the lookout to see what we can apply for.
'We're very frugal with the money, we try and spend it as wisely as we can.
'We're aware it's public money, so we try to spend it as if it's our own.
'One week we might go to one supermarket to shop for protein food, then the next week we might go somewhere else.
'We've been trusted with the money to make a difference, so we want to try and make as much of a difference as we can.
'It's not just about giving people food, we're trying to give them as balanced a parcel as we can so they get the right food in their tummies.
'I'd say the base food is around £15-20 per parcel, and there's always a bag of fruit and veg as well - not all agencies provide that.
'We try and get a good balance. If you give people the same things it gets monotonous, and then they might not bother to eat.
'We don't just want to give them soup, we want to provide things they can make meals with.'
Moving forward, Redpath admits Boro are looking into possibly replicating the Munch Pantry scheme that has been running in Leigh Park for a while.
Described as a 'helping hand, not a hand-out', that initiative offers families the chance to select their own food hampers for a weekly subscription of £5. Under the scheme, every hamper will have at least £15 worth of food in it.
You can vote for Boro's 'Feed a Family' scheme in the FSA's Lockdown Heroes award. Visit www.thefsa.org.uk for details. Voting closes next Monday, February 22, with the winners being announced on March 5.