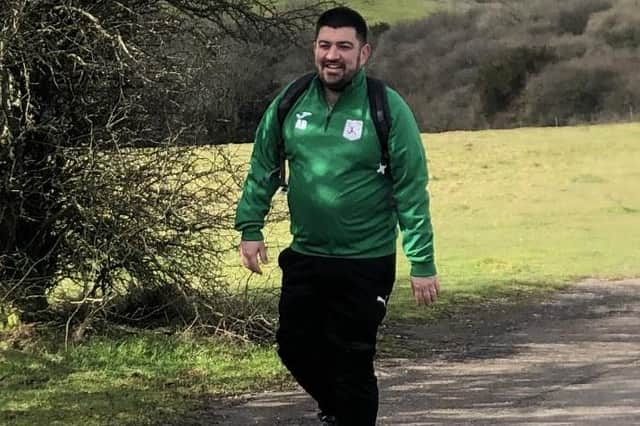 Alex Bone is walking 130 miles for the Alzheimer's Society.
Alex Bone, boss of Mid-Solent League club Mob Albion, is aiming to trek 130 miles spread over five different days and five separate locations later this year.
Bone is taking part in the annual Trek26 hikes - a series of 26-mile walks across various parts of the country.
The first one will be held in London in early June followed by similar hikes in the Brecon Beacons, the Lake District, Dartmoor and Stonehenge.
He decided to undertake the fundraising challenge as his grandmother was diagnosed with Alzheimer's five years ago.
As a result, he has seen first hand how 'this cruel illness' affects families.
'Before Grandma got Alzheimer's my knowledge of dementia was very limited and I used to think 'it can't be that bad to just forget things?'' Bone wrote on his fundraising page.
'If you know someone who suffers then you know how naive this was ... there is so much more to it for someone that suffers with dementia. With us all living longer, it will affect more of us.'
Bone reckons the London trek will take around seven to eight hours, with the Brecon and Lake District walks going into double figures due to the more mountainous terrain.
'London should be nice and easy,' he said. 'They've all got a difficulty rating and the Brecon one is rated 'very difficult'.
Bone has been in training in the South Downs and the Ashford Hangers nature reserve near Petersfield.
'Doing all this hill climbing is more tiring than I expected,' he stated.
Bone is hoping the local football community will rally round and boost his sponsorship total.
'Whether I've managed you and subbed you which you disagreed with, managed against you and given you grief for being on the opposition, whether I've stood at first slip and chatted utter nonsense while you bat or you've smashed my stumps to bits as I attempt to bat, whether I know you as an ex work colleague or you consider me a mate, then please donate,' he wrote.
'This isn't for me, this isn't even for Grandma Bone. This is to help fight something that will affect more and more of us if we don't fight together.'
Bone's fundraising target is £1,500 and he has already raised over £900 without taking part in a single trek yet.
Bone's grassroots football season, meanwhile, is set to resume on April 3 when the Mid-Solent League campaign returns after lockdown restrictions are lifted.
They will restart in second place in Division 1, with the 13 teams having been split into two tiers to make it easier to fit in the remaining games.
Mob - in their first season in the MSL - will have to close a five-point gap on Meon Milton if they want to clinch the title at the first attempt.
Bone, once a manager at Hampshire Premier League club Clanfield and a coach at Petersfield Town, said: 'I was always optimistic we'd get some football.
'This is probably the most sensible solution (by the MSL) in order to give all the games some importance and purpose.
'Every game is going to be a good contest.'
Bone admits Mob have enjoyed their debut season in the MSL and is looking forward to the league being split into two divisions in 2021/22 following the addition of new teams.
'We've loved it so far,' he said. 'And two divisions next season will be massively positive - we should have some really competitive games, and it will be nice to have the cups as well.
'We're hoping the Hampshire FA will bring their cups back - that's one we would be looking to win.'
Mob were formed during the first national lockdown - basically, the squad are a group of friends who used to play for Hampshire Premier League clubs near the A3 corridor.
Former MSL champions Harvest have progressed to the HPL, but Bone is cautious about Mob taking a similar route just yet.
'We'll just take it year by year and see where we go,' he explained.
'It's not just about the team, it's all the stuff off the field - we haven't got a ground that would be good enough.
'Any players we bring in would really need to be people we already know.'
For more details and to donate, visit https://www.justgiving.com/ and search 'Alex Bone'.