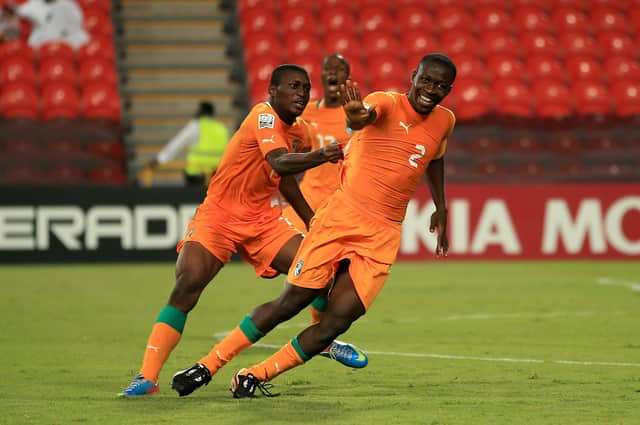 Moussa Bakayoko, right, celebrated scoring for Ivory Coast against New Zealand in the 2013 under-17 World Cup. Picture: Richard Heathcote - FIFA/via Getty Images.
The 24-year-old, who was Ivory Coast's top scorer with two goals at the under-17 World Cup in 2013, has moved to Westleigh Park on a short-term deal after leaving National League South rivals Dartford.
Doswell wasted no time in making his move when learning the winger had become available through his agent earlier this week.
French speaker Bakayoko has had a peripatetic career which has taken him to Morocco, Armenia, Ireland and now the National League South.
But Doswell feels Hawks could finally provide him with the perfect chance to settle at one club for a sustained period after stints in four different countries.
'For us, it was really the profile and one of the last few signings we were looking for to put competition and depth into the squad,' he explained.
'We were looking to add a bit of quality in the wide areas.
'We see him as an attacking winger, he can play as a second striker, but we've brought him in specifically to play as a wide man.
'He showed up really well today (in training) in the 11 v 11. I watched him a couple of times for Dartford and was quite impressed with him.
'He's been a good addition. He's French speaking from the Ivory Coast.
'For him, he probably needs a club that he can settle down at and show what he can do.
'I think we're a good vehicle for him and everyone finds their level - I don't know what level he'll get to - but he's obviously come to us to, firstly get in the team, and see if he can push on from there.'
Doswell says adding to his attacking options by bringing Bakayoko in was a 'no-brainer'.
But he also believes it provides the player with a 'great opportunity'.
And Doswell insists it's now down to the winger, who is expected to go straight into the squad for the visit of Hungerford tomorrow, to force his way into the team.
'He's still young enough and he hasn't yet had that full season of ripping it up, said the boss.
'When you're an attacking player, a goalscorer or assists, it doesn't take long before people stand up and take notice.
'What he needs now is a good period trying to get in and stay in the team and if he does that with us he's got a chance to kick on again.'