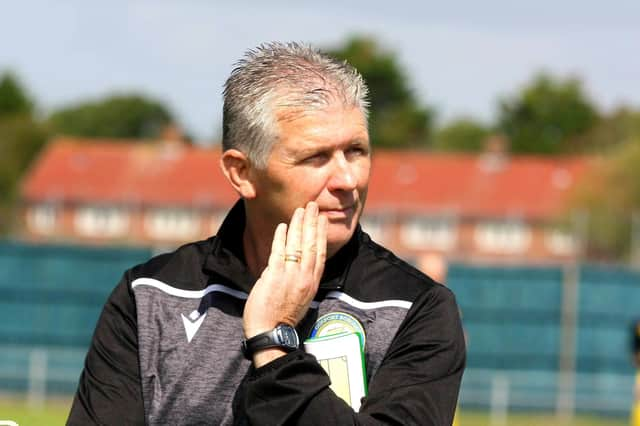 Happy to help US Portsmouth - Gosport Borough boss Shaun Gale. Pic: Tom Phillips.
Gale's side travelled to Devon last September to play Tavistock in an FA Cup tie.
Borough were pushed all the way by a Lambs side who operate two divisions below them in the non-league pyramid.
In the end, Gale's side required a penalty shoot-out to win their first qualifying round fixture after a 2-2 draw.
Gale twice had Tavistock – from the Premier Division of the Western League – watched and is happy to pass on his scouting notes to US boss Glenn Turnbull.
Gale said: 'We went down to Tavistock and they gave us a right game.
'They had a right go, they never gave up, we ended up winning on penalties.
'In normal time we should have won. We missed a chance and their keeper made some amazing saves on the night - that's cup football for you.
'They've done brilliant, USP and I wish them all the best.
'I'm sure if the manager wants a bit more information on them he can give me a call.
'I'm more than happy to help a local club out.
'I had them (Tavistock) watched twice. I've got a friend who lives in that part of the country so he watched them before we played them.
'I've got notes which I've kept so I can dig them out. I'm more than happy to help them, they're a local club - nothing against Tavistock, I know the manager there well - but I want my local teams to go as far as they can in these competitions.'
Gale has been impressed with the job Turnbull has done during his time at Wessex League Division 1 outfit USP.
The Gosport boss admits the underdogs face an incredibly tough test at Tavistock as they go in search of what would be their fifth higher division scalp in six Vase rounds
But Gale is not putting it past Turnbull's troops pulling off another shock to move just two games from Wembley.
He added: 'I don't really know him (Turnbull) too well but he's done an excellent job down there.
'Rightly so, he's got himself a move to another club (Moneyfields), but I'm sure his concentration will be on USP.
'He's done fantastic, they've beat some good sides and long may it continue.
'They'll have to be at their best at Tavistock because they will have a right go.
'But on their form I'm sure they'll be more than confident going into it.'