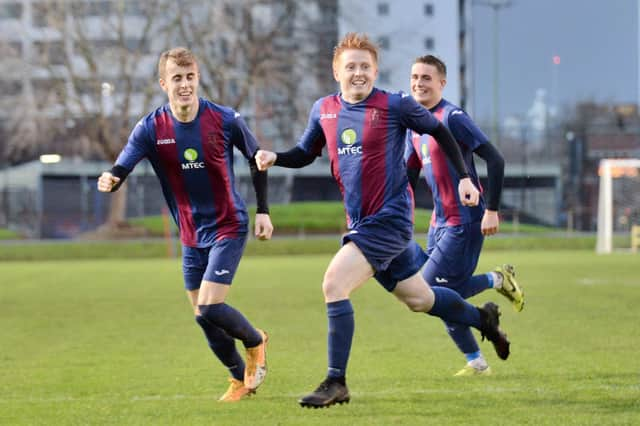 Frankie Paige (foreground) wheels away after scoring for US Portsmouth in their 3-2 Vase third round win over Millbrook in December. Pic: Martyn White.
Prior to this season, US had never progressed beyond the second round; in their previous 16 Vase campaigns, they had only won six ties.
In total contrast, victory over Christchurch this weekend will be their fifth of 2020/21 – and the fourth higher division scalp – and take them another remarkable step towards the May 22 final at Wembley.
USP's history - as well as that of predecessors Portsmouth Royal Navy - has not been studded with regular league and cup triumphs.
PRN won the Portsmouth Senior Cup in 1968, and the Russell Cotes Cup the same year, while USP repeated the Senior Cup win in 2012.
Brady, a former US player and manager and now the club's secretary, insists this season's achievements top the lot.
'I remember when we won the Portsmouth Senior Cup (in 2012, beating Moneyfields 4-3 at Fratton Park),' he recalled,
'But in terms of team progression and putting the club on the map, this is right at the top.
'It's a massive, massive game - a very important piece of history for us.
'Christchurch reached the fifth round last year, they're experienced at this level. It will be a good challenge for us, but we will be looking to come through. That's the aim - we want to make a bit more history.
'We've had a few milestones this season - the first time we've entered the FA Youth Cup, the first time we've entered the Women's FA Cup, the furthest we've ever gone in the Vase.
'Everyone has done fantastically well so far - the playing staff, the management team.
'This is unprecedented really, when you think we don't actually pay anybody.
'All the teams in this round will have playing budgets, but our players have to go out and get sponsorship themselves.
'What we have is a squad and a management team that believes in each other.'