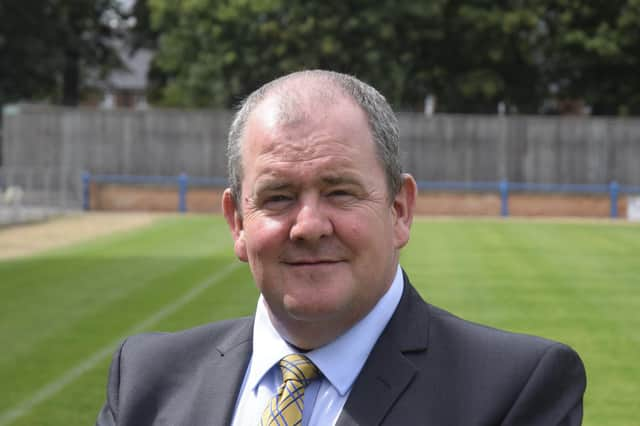 Fleetlands chairman Iain Sellstrom
But Jody Hoare - co-owner of the Coptermen's Hampshire Premier League rivals Infinity - believes it would be a 'travesty' if his club and Bush Hill both miss out while Fleetlands are invited to step up as part of the FA's non-league restructuring.
Fleetlands and Infinity are two of the eight clubs from regional feeder leagues who have applied for possible promotion to next season's Wessex Division 1.
They are joined by divisional rivals Stockbridge and Bush while Dorset Premier League pair Hamworthy Recreation and Dorchester Sports are keen to progress.
A third DPL club, Gillingham Town, and Berkshire-based Kintbury Rangers have also applied.
All eight are chasing a possible four slots that could be available in the Wessex 1 after the FA announced their restructuring plans earlier this week.
Under the proposals, the top three clubs in Wessex 1 - based on results over the past two pandemic-wrecked campaigns, that are US Portsmouth, Alton and Hythe & Diben - would go up into the Premier.
Additionally, Pewsey Vale, who withdrew from the division a few months into 2019/20, have never been replaced.
Of the eight clubs, two - Gillingham (Western League) and Kintbury (Hellenic League) - are also eligible to play in other step 6 divisions. Kintbury currently play in Division 2 South of the Hellenic so would be likely to remain in that league structure.
The other six, though, can only be promoted into the Wessex. Clubs in the two Wessex League divisions will be offered promotion based on their points-per-game records over the past two pandemic-wrecked campaigns.
That will not be the case for clubs desperate to enter the Wessex, though.
The FA have said that 'given the degree of variation in the number of fixtures completed by clubs in Regional NLS Feeder Leagues', it was not considered 'appropriate to utilise sporting data in the same way to determine upward movement.
'Accordingly, the proposed upward movement will be determined by the relevant 'leagues on the basis of a subjective application process.'
The governing body did add, though, that 'sporting data may be taken into account.'
Infinity, Bush Hill and Dorchester Sports are only tenants at the grounds they play at. Infinity are renting at Hythe & Dibden FC, Bush play at the Solent University-owned Test Park and Sports are tenants at Southern Premier League club Dorchester Town's Avenue ground.
And that, according to Sellstrom, will be cause for 'consternation' if those clubs are promoted at the Coptermen's expense.
Sellstrom is hoping the fact Fleetlands have a long lease on their Lederle Lane ground will sway the decision-making in their favour over clubs renting elsewhere.
'If it's done purely on facilities, Stockbridge should have first dibs - they are ready to go,' he said.
'But the FA have put in a caveat that sporting data could be used. You're then on sticky ground as you can't use last season's results (2019/20) because they were null and voided.
'If it's done on PPG, Stockbridge would be fourth choice in Hampshire.
'We would be third in Hampshire, and that would possibly rule us out.
'Hamworthy have got the best bid, and they would be the worthiest on footballing grounds.
'Infinity would be second, but they haven't got security of tenure at a ground. How will the FA look at that? I don't know.
'Both Infinity and Bush Hill are tenants at someone else's ground. They have moved to those grounds in order to get promotion.
'If they do go up, will that cause some consternation among others?
'We have got that security of tenure. When you apply to the FA for grants etc, they always mention security of tenure.
'I don't think this is going to be a quick fix, and someone will no doubt have cause for complaint.
'We will be complaining if it's not us (invited to go up).'
Fleetlands are currently doing work on a new changing room and toilet block area, and promotion to the Wessex would automatically release £50,000 of Football Foundation funding for further improvements.
Canford-Magna-based Hamworthy Recreation have a fine recent record, having won the DPL in 2017/18 and 2018/19. They also won 15 of their 16 league games in 2019/20 before the pandemic struck.
Rec's PPG over the last two seasons is 2.54, the best of any of the clubs seeking promotion. But they have also played the fewest games, just 22.
Infinity, who haven't lost in 37 games over the two league seasons, are averaging 2.51 PPG and Bush 2.5 from 34 matches.
Kintbury (2.41 PPG, 23 games), Fleetlands (2.08, 35 games), Gillingham (1.74, 31 games), Dorchester Sports (1.59, 32 games) and Stockbridge (1.52, 38 games) make up the list.
Yet, Hoare insists Infinity are worthy of promotion based on facilities and results over the last two seasons.
'We've been rivals with Bush Hill for a while,' he outlined.
'If you look at the past few seasons it's been us, Bush and Paulsgrove at the top.
'It would be an absolute travesty if they look past us and Bush in terms of promotion.
'On all counts we pass the ground criteria, and in one or two years' time we'll have a state-of-the-art ground (on a new housing estate outside Wickham).
'It'll be the newest and best ground in the area - who wouldn't want that in their league?'
'We're quietly confident we'll be given the green light.'