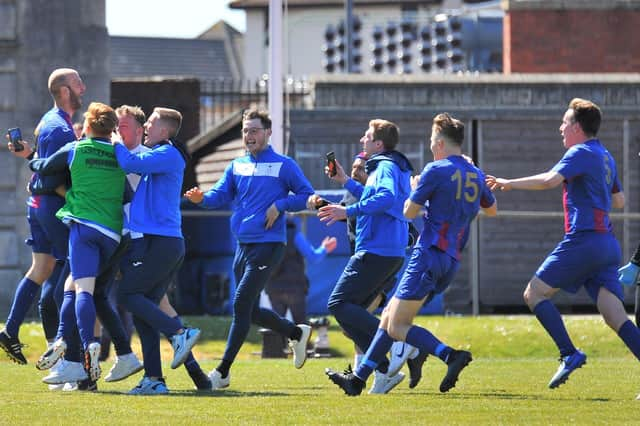 Tom Jeffes, far left, is mobbed after scoring US Portsmouth's penalty winner against former club Christchurch. Pic: Martyn White.
The skipper sparked jubilant scenes at a near-empty Victory Stadium by converting the spot-kick that sealed his side's place in the last 16 of the FA Vase.
Jeffes completed the 4-1 victory after Ash Pope had missed for the visitors and team-mate Billy Walker's effort had been saved by Tom Price.
US are now just three games away from reaching the Wembley final on Saturday, May 22 – starting with next weekend's trip to Devon to face Tavistock.
Let the celebrations commence - captain Tom Jeffes scores the winning penalty for US Portsmouth against Christchurch. Picture: Chris Moorhouse
The US captain had told The News in the build-up to the fourth round game that this one was 'personal'.
Not only is Jeffes a former Christchurch player, but Priory pair Ben Satterley and Harvey Wright are work colleagues. In addition, Christchurch manager Ollie Cherrett is a sales manager at the builders merchants where Jeffes' company regularly buy materials!
US boss Glenn Turnbull revealed afterwards: 'I said to Jeffers on Thursday at training that he would score the winning goal.'
Jeffes himself commented: 'Glenn said to me afterwards that it was written in the stars that I would score the winner.
Tom Jeffes (second left) is among the US Portsmouth players celebrating with James Franklyn after he had put them ahead in the FA Vase tie with Christchurch. Picture: Martyn White.
'It was brilliant to win it like that.
'I'm still lost for words really - it was a special day for the club.
'To see what it means to the people behind the scenes makes me really proud.
'Bob (Brady, secretary) was almost in tears at the end, and it brings a lump to your throat.
'We're a young team and the boys don't realise how special this is, but they will in 10 years time when they get to my age and look back on it.
'These are the games you are involved in football for.'
Christchurch were no strangers to penalty shoot-outs - remarkably this was their sixth of 2020/21. In contrast, US' last one had been in the Hampshire Senior Cup at Fareham Town in August 2019.
Jeffes was on target in that shoot-out, and Price also saved from Scott Hamilton - but the Reds ended up winning 4-3 in sudden death thanks to three stops from home No 1 Luke Douglas.
'I was confident taking a penalty, I'll always stick my hand up,' Jeffes remarked.
'It's important not to change your mind. I'd made my mind up on Thursday at training which way I was going to go.
'I remember scoring in a penalty shoot-out at Fareham, but I've never been a designated penalty taker.
'I remember a few years ago at US we'd missed a few in a row and the manager (Dave Fuge) said I was taking the next one, 'go on skip, show them how it's done' - and I blasted it over the bar!
'I've never lived that one down.'
The odds suggested US were due a penalty shoot-out win, having lost their last four.
In addition to the Fareham defeat, the club had also lost in the Hampshire Senior Cup to Cowes (2016/17), Cove (2017/18) and Havant & Waterlooville (2018/19).
Prior to Saturday, US' last shoot-out had come against Whitchurch, again in the county cup, in September 2015.
Remarkably, US have now won six cup ties against higher division opponents in 2020/21.
They have upset Wessex Premier outfits AFC Portchester, Bournemouth Poppies, Brockenhurst and Christchurch in the Vase, and Tadley Calleva and Brockenhurst again in the Wessex League Cup.
'Our expectations as a club were probably to lose to Portchester in the first game six months ago,' Jeffes recalled.
'We've beaten teams from a higher division in all but one of the rounds, it's an incredible achievement and you just don't want it to end.'
He admitted US had to be resilient in their latest win on a day where there wasn't a huge amount of free-flowing football shown from either side.
'It was difficult in the second half, it was a bit backs against the wall,' Jeffes correctly summed up.
'Christchurch are a great side, they've very direct, they play football a certain way and you can see why it gets them results.
'If I'm being honest, they deserved their equaliser.
'I actually thought we were going into extra time, so in that weather and after the second half I was quite relieved - going straight to penalties probably did us a favour!'