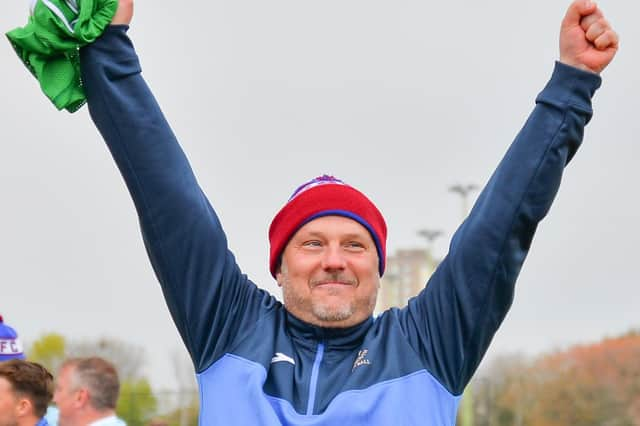 Glenn Turnbull celebrates US Portsmouth's FA Vase quarter-final win against Flackwell Heath. Picture: Martyn White
Amazingly, he could get an even better view of the 2020/21 final - which might also feature Hebburn - in just under three weeks time.
That's because his US Portsmouth history-makers could be stepping out at the national stadium, the self-proclaimed Theatre of Legends, as one of the two finalists.
An astonishing appearance at Wembley is now just 90 minutes away after USP added Flackwell Heath to a mind-boggling list of higher division scalps at the weekend.
Hebburn could become the sixth side in the Vase's 47-year history to retain the Vase; if they do, they will have won the same national cup twice in the space of 20 extraordinary days.
After playing Northern League rivals Consett tomorrow, Hebburn face Warrington Rylands next Saturday for the right to face Midland Leaguers Walsall Wood, who won 2-1 at Leighton at the weekend, in the last four.
These are remarkable days for Turnbull's club as well. Days of miracle and wonder, as Paul Simon once sang.
Talking about tomorrow's Vase final, Turnbull remarked: 'I'll watch the game - I might as well get value for money for my BT subscription.
'I'll tell the players to watch it - 'there you go, that's what's in front of you.'
'I'll be thinking 'this could be us.'
The post-match celebrations after beating Flackwell, said Turnbull, were more 'muted' than in past rounds on this unbelievable journey. He saw that as a good thing,
'Everyone knows it's real now, that's for sure,' he said.
'It's like leading in the Grand National - no-one wants to fall at the last hurdle.
'Everyone understands, I think that's why the celebrations were a bit more muted. There's a lot more focus now.
'They lapped it up after beating Portchester and Christchurch, but this was more muted. It was like 'ok, job done, onto next week.'
Moneyfields chairman Pete Seiden was left to clear up the empties this morning after a good night's drinking at Dover Road.
Turnbull is due to take over as Moneys boss at the end of this month, and will take some of his Vase history-makers with him.
'Pete said he filled eight bin bags with empty bottles, but there wasn't any of the uncontrolled dancing like we'd seen in previous rounds,' he revealed.
'Everyone was a bit more subdued and focussed - well, apart from the dinlos playing Sunday football today!'