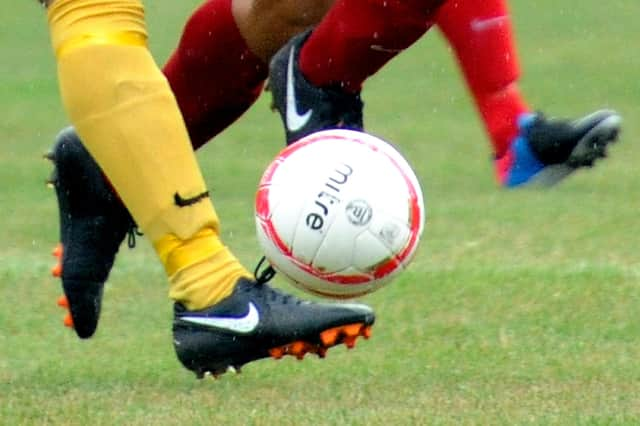 -
In a Hampshire Premier League Division 1 SE fixture, the midfielder's first-half double set up Harvest for a 2-1 success at Meon Milton.
Jagjit Singh replied for Meon with around 15 minutes remaining as they suffered their first defeat at a higher level since winning last season's MSL title.
'We were comfortable for 75 minutes,' said Harvest boss Steve Harris. 'I don't think they had a shot on goal in the first half.
'They were well organised, they played three at the back and two up front - not many teams do that in this league.
'Our defence was chalk and cheese compared to the previous week (4-3 loss to QK Southampton) - we were horrendous the week before but this time we didn't give them a sniff.'
Hounvio opened the scoring and added a second from the penalty spot after a handball.
'Louis can play left wing or right wing or as a 10,' said Harris. 'He's very slight but very skilful - he can beat two or three players - and he's lightning fast.
'He can be a bit selfish but I haven't got a problem with that - you need to be a bit selfish to be a winner.'
Hounvio is one of the many new faces in a 'faster, younger, fitter' Harvest side that Harris feels will be 'more of a threat up front' this season.
'A few of the older, more experienced heads have gone into the reserves where they can help bring the youngsters on. It's a win-win situation, it's brilliant for the club.'
'Win' is the operative word for Harvest's reserves who have opened their debut Mid-Solent League Division 1 campaign with four straight victories.
Three prolific scorers at Mid-Solent League level - Zach McGregor, Nathan Newer and Bobby Read - were on target in their latest win, a 4-3 success against Mob Albion.