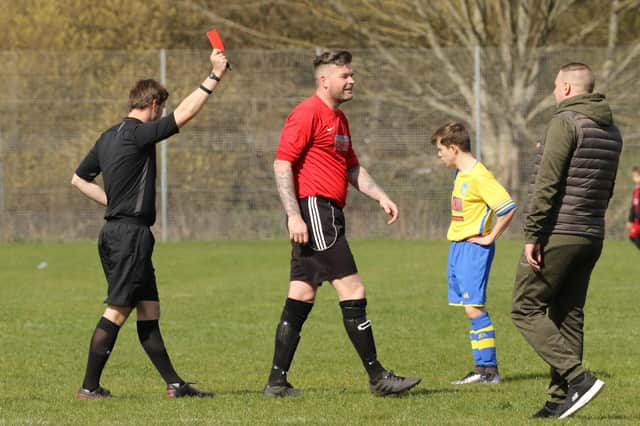 Neville Farley is shown the red card during Wymering's Mid-Solent League draw with Division 1 leaders Meon Milton. Picture: Kevin Shipp.
They came from 1-3 down to draw 3-3 against nine-man Wymering but remain top of Division 1, three points clear of Mob Albion.
Wymering had stormed into a 3-1 half-time lead but were let down by two dismissals in the second half.
First, Neville Farley - having previously been booked - was sent off after a tussle with Meon player-manager Bic Singh.
Wymering's Neville Farley tangles with Meon player-boss Bic Singh, leading to his dismissal. Pic: Kevin Shipp.
Then Paul Smith, having been sent to the sin bin, kept up the dissent and was also red carded.
'We just couldn't keep our mouths shut,' rued Wymering boss Paul Critchett.
Wymering had eased into a commanding position thanks to Billy Smith, Louis McGowan and an own goal.
Barry Jeans struck Meon's opener, with Aran Singh adding a second before the two dismissals.
Neville Farley of Wymering is about to be shown a red card against Meon Milton. Pic: Kevin Shipp.
With around 10 minutes remaining, Bayley Whitcombe levelled.
'The lads came off feeling very disappointed,' said Meon secretary Matt Hickley. 'But bearing in mind we had five regulars missing, and it was our first game back, I didn't think it was necessarily that bad.
'We were missing our goalkeeper, two centre halves, a central midfielder and a striker - basically the spine.'
Andy Edwards, normally the left-back, volunteered to go in goal.
Meon Milton's Dylan Futcher, left, in action against Wymering. Pic: Kevin Shipp.
All the missing regulars should be back for this coming weekend's return fixture against Wymering at Eastney Barracks.
Meon, meanwhile, are still waiting to hear whether their application to join the Hampshire Premier League for 2021/22 has been successful.
Milton are keen to follow in the footsteps of Harvest, the reigning Mid-Solent League champions who have made a decent step up into county league football this term.
'I'm told there are conversations going on about leagues restructuring,' said Hickley.
'It will be interesting to see what happens, but so far all our talks have been positive.
'We haven't had an official ground grading visit yet, and we know there's work we will need to do at Eastney Barracks.
'But we've been told we would be given 18 months to get all the work done.'
The FA have said they are 'revisiting' plans first revealed in 2019 to restructure the lower end of the non-league pyramid.
There are clubs in both divisions of the Hampshire Premier League desperate to take promotion if offered it - Fleetlands and Infinity in the Senior and Moneyfields Reserves and Denmead in Division 1.
Further up the pyramid, at Wessex 1 level, US Portsmouth are waiting to see if they are offered the promotion their performances since the start of 2019/20 deserve.