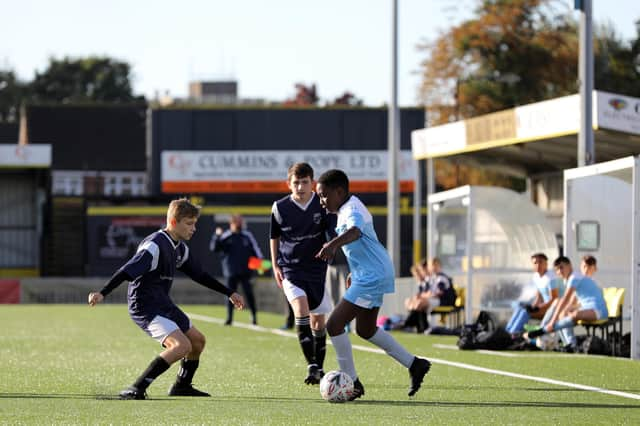 Bearwood Panthers take on AFC Eastney in a Mid Solent Youth League game at Westleigh Park earlier this season. Picture: Chris Moorhouse
And he remains optimistic of finding a way to get both adult and youth section seasons fully completed by the end of June.
The Mid Solent League can return from March 29 with grassroots football given the green light to resume as part of the Government's roadmap to easing coronavirus restrictions.
That means the first Saturday available for the more than 3,000 players associated with the league to get back out on pitches across the area is April 3, the day after Good Friday.
Action from Wymering (red) v Cowplain in the Mid Solent Adult League this season. Picture: Keith Woodland
Cox stated that as long as he gets FA clearance and clubs agree, that's the date he's pushing to get the Mid Solent League back up and running.
The 13 adult section clubs will be consulted and informed of what scenarios are available in order to complete the 2020/21 season before a decision is made.
Cox said: 'I've never dulled my enthusiasm for the opportunity to get this season finished, I've never given up on it.
'I'll certainly be instructing the youth sides that's the date we'll start (first weekend in April).
'The men are chomping at the bit, they just want to play anyway, so they'll want to get as many games as they can in.
'I will put everything in place, I'll make sure we're ready to rock and roll, it gives us four or five weeks to get everything ready and prepared for it.
'We're going to have a chat with the adult section clubs and we're going to offer them all the scenarios.
'We know how many games they've played if they want to complete the season by playing each other twice, which we started out to do; we started the season saying we'd do the first round of fixtures and play each other once by Christmas.
'It didn't quite come off but we got close to it.'
The biggest fear for Cox is managing to fit all adult section matches in before the extended end of June date for campaigns to be completed.
If the adult section is to recommence on April 3, it would provide clubs with 13 Saturdays until the end of June.
Yet, both Portchester Rovers and Wymering have 16 games left while Horndean United - who have played the most games in the division - have 13 fixtures to complete. But with midweek dates available after clocks go forward, it should be possible.
Cox will encourage clubs to play double headers and in midweek if at all possible.
Meanwhile, youth section matches - of which there are age group divisions from under-7 through to under-19 who play games on a Saturday morning - could be 'restructured' in order for seasons to be concluded.
Cox said: 'There's about three month's worth of football (left to play in the adult section).
'We're going to give them (clubs) the option of double headers, midweek games if you can get them on an all-weather surface instead of training because I know some of these clubs are associated with youth clubs as well.
'In the adult section they will hopefully finish their season.
'From the youth point of view, we're reviewing that at the moment. If we can get going in the first weekend of April we're quite confident by looking at different age groups - we deliberately set out this season to have extra divisions and smaller groups - and the majority of them should be completed.
'If we structure the fixtures to start back to play what I call the contentious games - I don't mean that in a nasty way - but to play the games that are relative to final positions, first or second and that type of stuff.
'We're going to play those, going to revamp our fixtures, play those early doors and if we do get any setbacks then we can start looking at averaging points and things like that.
'But we're confident that we'll get that finished before the end of June without a shadow of a doubt.
'I can confidently say we will endeavour to get our league seasons complete.'