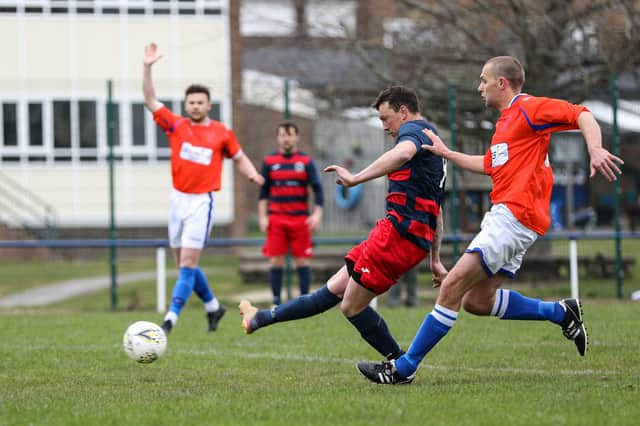 Danny Lane scores for Paulsgrove against Denmead. Picture: Chris Moorhouse
Boss Wayne Grant even included assistant manager Steve Ledger in his match-day squad, but he was not needed with only 12 players used in the opening match for both teams in Group 7 of the Hampshire Premier League's post-lockdown competition.
First half goals from Rob White and Danny Lane put Paulsgrove on the way to victory.
Ryan Harrison reduced the deficit after the restart before Shane Cornish restored Grove's two-goal advantage.
Paulsgrove's Joe Dorsett, right, rises above Lewis Crook. Picture: Chris Moorhouse
With Grove's reserves also in action on the same day in the Hampshire Combination East Division, Grant had limited numbers to select from.
But he was just pleased to see his side back out getting some competitive football again after a break of nearly four months.
Grant said: 'To be out there was nice. We're not really concerned about the results which is why we fielded the team we did.
'The reserves had a game as well so out of 46 signed on we only had 26 available this weekend.
Paulsgrove's Rob White. Picture: Chris Moorhouse
'We had 13 in my team that was including my assistant Steve Ledger.
'We played Tuesday and then Saturday, now the ressies are playing Tuesday, then we've got games Thursday, Saturday and Tuesday.
'If you said to the boys it's that or no football, I know what they'd choose.'
Paulsgrove travel to Westleigh Park to face Clanfield in their second group game on Thursday before hosting Harvest Home on Saturday.
Denmead's Ryan Daunton and Danny Lane, right, challenge for a header. Picture: Chris Moorhouse
Grove previously trounced Clanfield 5-1 on Hawks' 3G surface in a HPL Senior game last October.
Denmead are back in cup action against league rivals Harvest at Front Lawn tonight (8.15pm).
Denmead's Steve Field, left, and Shane Cornish. Picture: Chris Moorhouse
Denmead's Brad Simmonds, left, and Billy Butcher. Picture: Chris Moorhouse