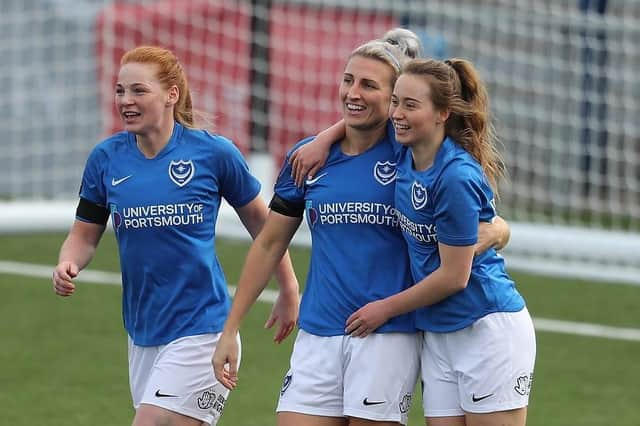 Pompey Women's league season has been curtailed. Picture by Dave Haines
And he warned the FA that failure to implement movement of clubs at steps 3-6 would 'jeopardise women's football'.
Sadler and his squad yesterday discovered their FA Women's National League Southern Premier Division campaign was 'curtailed with immediate effect and declared incomplete'.
It's a verdict that means there will be no promotion or relegation between steps 3-6 of the women's game for a second season running after the null and voiding last term.
Pompey Women's manager Jay Sadler. Picture by Dave Haines.
But Sadler stressed the governing body must find a way to reward clubs for their successes in the past two years.
A recommendation has been put forward for alternative club movement between the tiers.
Yet, should teams throughout steps 3-6 remain in the same divisions at the start of next season, Sadler says it could have a catastrophic effect.
He warned: 'It's a hard one to take but it is what it is I suppose, we can't change it (curtailing of the season).
'The league is more than just Portsmouth and our individual position that we're in.
'We're third in the league, we're gunning for promotion, we're making no qualms about that's where we want to get to. It's hard for us, but there a lot of other teams who have been in better positions and unfortunately their seasons are curtailed too.
'You've got teams like Wolves, Southampton and Ipswich who have been the best performing teams in their leagues for two years running.
'I feel like if nothing is done about it from a promotion or relegation view, it's just going to jeopardise women's football and the integrity of the whole game.
'I feel like it hinders the growth of the game in the bigger picture.
'There are a lot of clubs operating in the third and fourth tier that could transition and compete higher with the teams in the elite level.'
It wasn't just Sadler who was annoyed by the curtailment. One of his players, Rosie McDonnell, tweeted: 'A second season of hard work, time and money amounting to nothing whilst men's football continues at lower tiers.
'A disrespectful and unprogressive decision for so many female athletes and staff that focus their lives around these leagues. This one stings.'
Over the 2019/20 and 2020/21 seasons, Pompey Women were scheduled to play 44 league games. Due to the pandemic, they only managed 17.
'Even if a different team in our league gets promoted I'd still be for that because, for the growth of the game and development of players, there needs to be that promotion/relegation, that movement between leagues,' Sadler continued.
'Otherwise I do fear that the pyramid, the lower level, the foundations, are going to be detached from the top tiers.'
Despite the decision to curtail the league campaigns, Pompey Women's season is still not over.
Still involved in the Women's FA Cup, they are currently preparing for a second round tie against Cheltenham on Sunday, April 4 at Westleigh Park.
Rather than focusing on the disappointment of the league season being brought to an abrupt end, Sadler feels his side's cup involvement remains a positive in what has been another coronavirus-wrecked campaign.
Sadler said: 'We've got to look at the positives. It's the first thing the players have been talking about - we've still got the FA Cup and we can make that as many games as we want if we ultimately win.
'We've got to put our focus and energy into that which is exactly what we're doing with the staff and players and our preparations.'