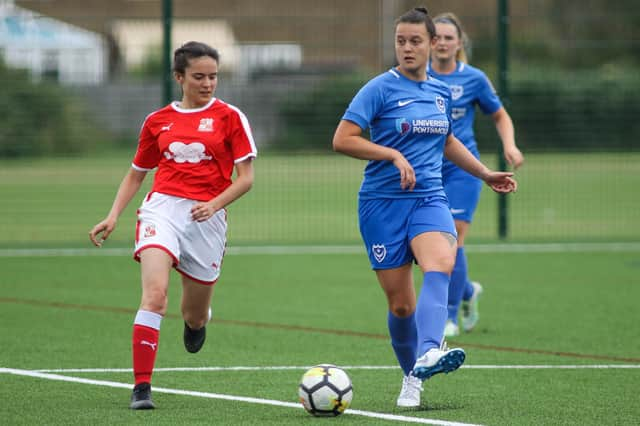 Jade Bradley, right. Picture: Jordan Hampton
And the Pompey Women's captain is 'baffled' how all clubs from steps 3-6 of the pyramid were given the same weight on a vote over how to conclude the 2020/21 campaign.
A number of teams and players operating at National League level in the women's game are outraged that they have been classed as 'grassroots'.
The non-elite labelling has prevented clubs below Super League and Championship level - including Pompey, who play in the third tier - from playing and training since a third national lockdown was imposed.
Bradley, 24, who came through the ranks at Super League side Reading's Academy, says it's not right that National League teams were unable to continue their seasons despite the tightening of restrictions.
There was a further blow for players and clubs operating in the third tier when all seasons at steps 3-6 were curtailed last month.
Bradley believes the premature halt could have a detrimental impact on playing careers.
She insisted those who might have been able to progress up the pyramid and make it to semi-pro or pro level will now have been 'stunted' from doing so, and might never get another chance.
Bradley stressed: 'A lot of us are at an age now where we need to push on, granted I'm still lucky with my age, and those a little bit younger are really lucky with their age.
'There are some girls over 26 or 27, this is their last chance, they really want to push over these next seasons.
'It's now that their careers, which could potentially have been semi-pro or pro football, is now stunted by two seasons.
'I think that's the gap (to the Championship) that we want to bridge more than anything. Financially we can definitely bridge it and technically and tactically there's not a lot of difference.
'There are hundreds of girls I think that are capable of playing in the Championship - they just don't get the exposure they deserve.'
Women's teams at steps 3-6 were canvassed for a vote on what should happen this season while football remained halted at non-elite level because of lockdown
But Bradley, whose team return to action this Sunday at home to Cheltenham Town in the second round of the Women's FA Cup, questioned why National League clubs were only allowed the same weight of vote as other teams operating further down the pyramid.
She said: 'I think last season (2019/20) was a write-off for everyone so from that sense there's not much to be annoyed about; everyone was in the same boat, it was the first time we'd been in a pandemic in this day and age.
'This season is completely different. How certain teams in certain leagues, in particular the men's, are carrying on and we're not - I don't even know what the word would be - I'm in shock, really.
'The fact that our vote to play or go null and void was carried as the same weight as those in tier six. The fact it's weighed the same as those in tier six baffles me.'