Bryn Morris' important Portsmouth contribution goes unnoticed - Joe Gallen
Bryn Morris' important Pompey influence goes 'unnoticed'.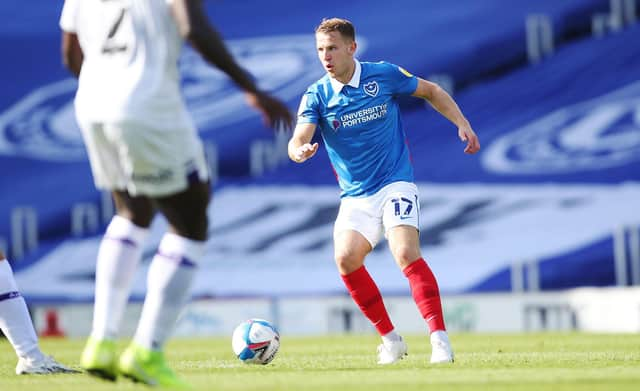 Bryn Morris has been ever-present for Pompey this season, but is not starting against Southend in the EFL Trophy. Picture: Joe Pepler
That's the verdict of Joe Gallen, who is adamant the midfielder doesn't receive the credit he deserves.
Morris has come in for criticism from some of the Fratton faithful, who have questioned his impact in matches.
The 24-year-old will step down for tomorrow night's trip to Southend in the EFL Trophy (7.45pm), with Ben Close coming in.
And Gallen has praised the early-season contribution of Morris alongside skipper Tom Naylor.
The Blues' assistant manager told The News: 'Ben is very close to being in the team, but he has to dislodge Bryn.
'Bryn played well on Saturday and is doing a lot of things which, in my opinion, are going unnoticed.
'Tom Naylor and Bryn have been the preferred option. I think they have done pretty well overall.
'Bryn does a lot of interceptions, there are a lot of second balls, he's pretty combative in there.
'Everyone looks at passing all the time – and passing is high up on the list of priorities for midfielders – but there are other things which need to be done too.
'He intercepts brilliantly and it can go a bit unnoticed, I don't know why. He blocks a lot of the other team's attacks.
'Not only does he intercept, but his passing is simple and pretty early, he doesn't give it away.
'Some of his passes are very, very good. There was one on Saturday where he threaded it through a gap down the right in the first half.
'Second balls are massive, Bryn is very good at picking those up. It's very important he wins that second ball, which he does and then gives an early pass.
'It is a skill – and a big part of playing in midfield.'
Close will tomorrow night line up against Southend, representing his first start since the 2-0 defeat at Peterborough in March.
Close's frustration has continued this term, so far restricted to one appearance off the bench, arriving against Shrewsbury last month.
Pompey remain in the market to add to their central midfield options, with deadline day fixed for October 16.
In the meantime, Close is vying with Morris to feature alongside Naylor.
Gallen added: 'Bryn has played well, but Ben Close is on his case. That's how it should be.
'If Bryn drops his level then I'm sure Ben will get a chance.
'Ben Close is good at getting second balls too, but sometimes these things can go a little unnoticed.'
A message from the Editor, Mark Waldron
Thank you for reading this story. The News has launched a new subscription offer which gives you unlimited access to all of our Pompey coverage.
Every subscription helps us continue providing trusted, local journalism on your behalf for our city.