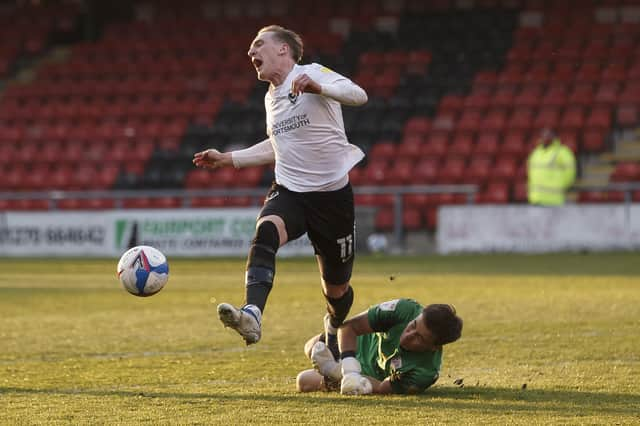 Ronan Curtis is fouled by Crewe keeper Will Jaaskelainen. Picture: Daniel Chesterton/phcimages.com
Danny Cowley's side were unable to find the breakthrough at Gresty Road, with a missed John Marquis penalty just before the hour mark the visitors' best chance.
Here's a selection of the views shared by Blues fans on Twitter...
@GavH_: The Cowleys now see why we're where we are for a reason, we can play brilliant for couple games or so then be rubbish for next few.
It's so frustrating! Even under Jacket we was like this.
The new management somehow need to cut out the inconsistency.
@lewieboy: Shambles of a game!
Pompey look like they have had enough this season!
We make the play offs! Big IF then we won't go far as we have no fitness!
Marquis is a shocking can tell his not match fit! MK Dons is gonna be even harder!
@beiderbecks: Totally believe the Cowley boys are right for us going forward.
This season could yet deliver, highly doubtful though.
Too slow to react to the problem from the hierarchy. That said, can't wait to get back into grounds again
@FookingEll: What you have got to remember and keep telling yourself is pretty much all these players are Jackett's.
The sooner most of these players go and the Cowleys (hopefully) build their own squad, the better.
@Chad_177: Pompey are so frustrating to watch at times!
@SamKnight9: The Cowleys are perfect for us, their passion, ambition is what we need, our issue is this squad of players are nowhere near good enough. They need the summer to reorganise, shuffle and build.
@jeffharris_665: Let's be realistic, the only way this team will go to the next level is if the club really invest in the summer in quality signings and good coaching.
@FrattonFaithful: Can't vouch your million pound striker missing a sitter and then a pen straight after.
But the other attacking players failed to shine in a disjointed display against a poor Crewe side.
The Cowley honeymoon is over, vast improvement required for MK.
@princent_vice: Pompey need to offload the deadwood in the summer and get some Cowley players in.
Naylor and Harness absolutely shocking today.
@rich_grazier: Marquis has cost us all season! Sell and invest in the Cowleys to build a team for league one next season.
@NicolaUpfield: Not the end of the world though and we wouldn't be Pompey if we took the easy route.
Hopefully the Cowley's can get us over the finish line.