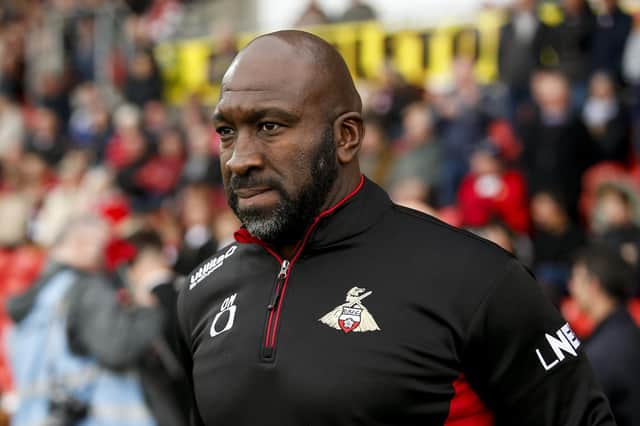 Darren Moore. Picture: Daniel Chesterton/PinPep
Moore has departed his managerial post, with the Doncaster Free Press reporting he's set to take charge at Yorkshire rivals Sheffield Wednesday
It means that Donny defender Andy Butler will be in the dugout for the encounter against the Blues and will hold the reins until the end of the season.
Former Pompey defender Moore was appointed Doncaster boss in the summer of 2019.
After finishing ninth last season, he's put Rovers firmly in the League One promotion mix this season.
Donny sit sixth in the table but their loss to Ipswich on Saturday meant they've picked up just one point in their past five games.
It's a high-stakes move for Moore. He joins crisis-hit Wednesday who are rooted to the bottom of the Championship.
Chairman Dvid Blunt said: 'We are disappointed that Darren has chosen to leave the club part way through what has been a season full of promise.
'We have made significant efforts to support Darren over the past 18-months and ensure he was able to build a team capable of challenging in the top six. This has included supporting him through the past two transfer windows despite the difficult financial circumstances.
'Our ambitions remain to achieve a top six finish and we hope and expect that Andy will use this time to put himself in the prime position to secure the role on a permanent basis at the end of the season. Andy's first priority will be to halt the team's recent run of poor form and put our season back on track.'
Wednesday have been without a manger since December after sacked ex-Pompey boss Tony Pulis.