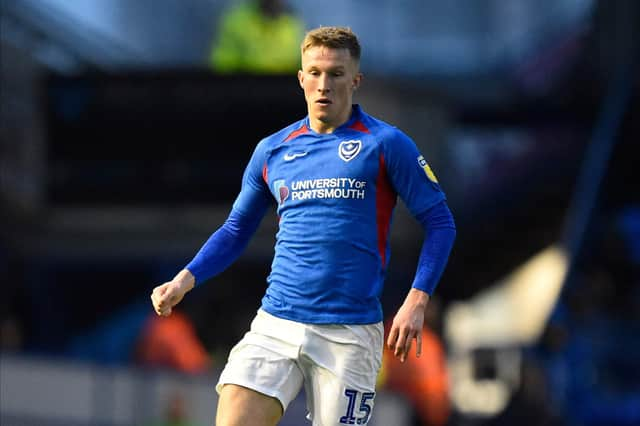 Ross McCrorie has become the fifth Pompey player to test positive for coronavirus. Picture: Graham Hunt/ProSportsImages
On Tuesday evening, it was announced the loanee from Rangers had become the fifth Pompey player to test positive for the pandemic.
He now joins James Bolton, Andy Cannon, Sean Raggett and Haji Mnoga in seeking self-isolation during the ongoing global crisis.
However, McCrorie's agent, Nicholas Nicholson, has praised the conduct of Pompey's chief executive during difficult personal circumstances for his client.
And he insists the Blues are fortunate to have a figure of Catlin's calibre heading the club.
Nicholson told The News: 'Ross is okay, he has not shown any symptoms.
'Mark Catlin ringing him up personally to check on him was a nice touch. I don't think Mark really knows that Ross' grandpa's in hospital at the moment, so it was a wee pick me up for him.
'His grandpa has been in hospital for the last week-and-a-half with a urine infection and they are a very, very close family, while he lost his gran two years ago.
Pompey chief executive Mark Catlin. Picture: Joe Pepler
'With everything going on in his life, Mark's reaction meant a lot to Ross, it gave him a boost. He checked to make sure everything was okay, telling him to stay in and stay safe. I imagine Mark has done that with all the (infected) players, that's such a nice touch.
'For the stress which must be on his shoulders at the moment, such as sorting out finances and the impact coronavirus is having on Pompey, Mark has still taken time out to do that.
'It could have been just a quick text message because people are so busy, but he rang in person - Pompey really are lucky to have a guy like that in charge.
'Mark also phoned me on Tuesday night, spending about 10-15 minutes chatting, relaying how he had spoken to Ross and everything was under control.
'He didn't have to do any of that, what he offers is honesty and he's genuine. I think he's an absolute star taking the time to do that, he's a different class.'
McCrorie has made 22 appearances since joining on a season-long loan from Rangers.
Since the turn of the year, free from his hamstring problem, the Scotland under-21 international has featured on a more regular basis for Pompey.
And he started at right-back in the Blues' most recent match - the 2-2 draw against Fleetwood.
Nicholson added: 'Ross is loving his time with Pompey.
'I've stayed close with him during the time he has been down there and it has been a big learning curve for him.
'Kenny Jackett has played a part in that as well, treating him like a man, which is what Ross has needed and will benefit his game.'