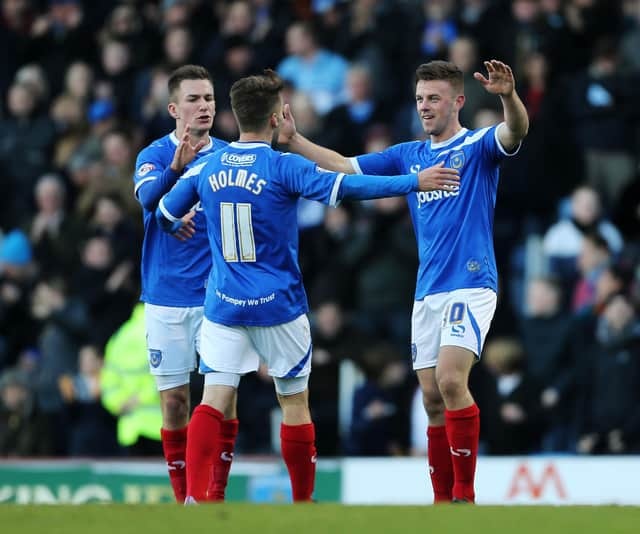 Tom Craddock is congratulated by Jed Wallace and Ricky Holmes after scoring against Scunthorpe in November 2013. Picture: Joe Pepler
The dugout beckoned as the striker left the field against Southend following his 81st-minute substitution.
Frustrated by repeated Pompey performances impacted by a problematic left knee damaged in training, he vowed to seek surgery to rectify the lingering agony.
Craddock never played in the Football League again – and by the age of 30 was retired.
As a free-scoring forward with Luton and Oxford United, who also featured in the Premier League with Middlesbrough, he arrived on the south coast in the summer of 2013.
Yet his Pompey stay would span 11 games and one goal inside two injury-ravaged years from which his career never recovered.
November 26, 2013 remains imprinted on Craddock's memory.
'I remember trying my backside off in that Southend game, running, going for headers, but was too restricted,' he told The News.
Tom Craddock made just 11 appearances in two years at Fratton Park during an injury-ravaged spell. Picture: Joe Pepler
'I had previously scored three goals in two previous games against them, against those same defenders. Now I was a shadow of what I was.
'I came off, sat on the bench and thought: "That's it, I've had enough, I can't carry on like this. I'm not doing myself justice and I'm not doing the Pompey shirt on my back justice.
'I had to be honest and not kid myself. I told Steve Allen, the physio, "Listen, this is no good. I need to get it sorted".
'My knee was doing my head in – and that is when I went under the knife.
Tom Craddock (centre) was invited back to train with Pompey by new boss Paul Cook in June 2015 following his release. Also pictured are Cook (left), Michael Poke, James Dunne and Paul Jones. Picture: Colin Farmery
'I was back training 18 months later, loading up with anti-inflammatory tablets, just trying to return to some sort of fitness, but it was no good.
'Effectively I retired when I got that injury at Pompey, I was never the same.
'It happened during a training session on the Fratton Park pitch in September 2013, jumping for a header and an awkward landing. I hyperextended my knee, felt it click, there was a really sharp pain, but not enough to keep me out.
'Anyone who's had a knee injury understands that if it's a cartilage problem, you get fluid in the knee and it's like a dull ache. There is restricted movement rather than pain, so you're able to continue doing exercise, but not able to perform at your maximum.
Tom Craddock (left) has been teaching PE at Carmel College, in Darlington, since September 2019. Here he is pictured with a colleague
'We played at Torquay in the Johnstone's Paint Trophy on a Tuesday night and I appeared as a second-half substitute. My knee was feeling stiff and started swelling.
'After a six-week lay-off, I returned in the same competition at Newport County and was nowhere near it, I was playing at 40 per cent with one knee.
'I then scored on my full League Two debut for Pompey, with a header against Scunthorpe in a 2-1 defeat.
'I had trained all week and my knee was like a balloon. I look back and think "What on earth was I doing?". I was so desperate to get out there and prove myself, filling up with anti-inflammatory tablets to get through it.
'Next was Southend. It was November 2013, Guy Whittingham had been sacked the previous day, with Andy Awford taking over as caretaker, and I retained my place.
'That was the last time I played in the Football League.'
Tom Craddock and Pompey team-mate Marcos Painter joined England players Alex Scott and Jordan Nobbs in coaching a group of youngsters from Medina Primary School in September 2013. Picture: Allan Hutchings (132551-245)
Craddock had chosen Pompey over Shrewsbury, Hartlepool, Newport County and Plymouth after leaving Oxford following 28 goals in 88 appearances.
Whittingham had previously attempted to recruit the striker on loan from the Kassam Stadium in February 2013, yet the U's scrapped the move after being unable to recruit a replacement.
The 26-year-old instead arrived at Fratton Park four months later as fan ownership heralded an eagerly-anticipated new era, albeit with the Blues now condemned to League Two.
Craddock was among 11 fresh faces on the south coast, joining existing players Johnny Ertl, Patrick Agyemang, David Connolly and Jed Wallace.
However, just six months into his two-year contract, he had made his final Pompey first-team appearance.
Craddock added: 'There had been no previous problems with that left knee.
'When the surgeon went in to operate, there was some sort of degenerative damage to my cartilage. Then again, if you went into any footballer's knee, there would be some degeneration because of the strain your joints go through.
'Still, the surgical procedure was called microfracture. With the cartilage irreparable, they drill into your bones so they bleed and grow fibrous cartilage as a replacement. However, it's not as strong as the one it replaces.
'The injury is common in basketball players because of the jumping and extension of the knee. Those affected aren't able to get back to previous levels - and that was also the case with me.
'After the operation, I would sit on this machine to mobilise my leg. It was soul destroying. It was installed in my Southsea home and I was on it eight hours a day over eight weeks, including Christmas Day.
'Pompey had a new physio, Sean Duggan, and when he read the notes of the operation and looked at my knee, he asked "Do you have career-ending injury insurance?".
'I wasn't able to come back and put the stress on my knee that football demands because of the twisting and turning, especially the way I played.
'I liked to run in behind, I was quite a dynamic player, not somebody who doesn't need to run and is instead fantastic on the ball, like a James Rodriguez.
'I wasn't able to get back to that level which required training every day and playing once or twice a week. The injury wouldn't allow it. I was able to get back up to a level, but it wasn't a level I wasn't happy with.'
Released in May 2015 upon the expiry of his Fratton Park contract having failed to return to first-team action, Craddock was handed a surprise lifeline – by Pompey.
Newly-appointed manager Paul Cook scanned the retained list and opted to call the striker back for pre-season training.
Craddock even joined the Blues on their six-day bonding trip to Vale do Lobo in the Algarve, representing the sole triallist in attendance.
However, he slipped away from Fratton Park for good on the eve of the July 2015 pre-season friendly opener against the Hawks.
He added: 'I had done well against Paul Cook teams in the past, once scoring four goals in a 5-0 win over his Accrington side. I had a pretty good reputation in the lower leagues and he invited me back.
'I got to somewhere resembling fitness in that 2015 close season. I was able to keep up with the running, I could have run all day, but as soon as we got to any twisting and turning and playing games, I was a shadow of where I was previously.
'Besides, it was clear the quality of player had increased – and in training I could feel I wasn't up to that level.
'In addition to the new arrivals, Conor Chaplin was coming through. Even if I had managed to get some kind of deal at Pompey, I wasn't going to play.
'I could cope, I could get by, I was near the front in the running, I was fit and okay with the football. But I was always honest with myself and knew I wasn't up to the level where Pompey were going.
'I wasn't awful, I wasn't fantastic, I was getting by okay, but nowhere near it.
'Paul Cook told me that, as he had a lot of triallists, he wouldn't be able to give me any minutes in the first friendly, which was fair enough.
'That same day I instead played for League Two Cambridge United in a trial – scoring four goals against St Neots after coming on at half-time. I also netted the following Tuesday. I know they weren't league opposition, but you don't get many people scoring those sort of goals in pre-season.
'Richard Money was Cambridge's manager – and had been my former boss at Luton. He was umming and ahing over a contract and I didn't want to hang around.
'Football clubs can use and abuse you, he could have given me a six-month deal, but then what happens at Christmas when I've got a wife and young son?
'Maybe it was hot headed on my part, but I wasn't going to sacrifice my family's happiness and being settled to chase a career and have people letting me down.
'I don't regret it. I would never have got to where I was before I signed for Pompey. My career was going down anyway after the injury.'
Having left Pompey, Craddock's playing days lasted just 18 more months, seeing non-league service with Guiseley and Spennymoor.
In January 2017, he retired at the age of 30, yet possessed the foresight to have already ploughed ahead towards his next career goal.
During his time sidelined at Fratton Park, Craddock began distance learning, taking up a three-year sports science degree affiliated with Manchester Metropolitan University and funded by the PFA.
He then spent a year undergoing teacher training at Carmel College, in Darlington, his former secondary school, before starting full-time in September 2019 as a PE teacher.
It's work he combines with a part-time coaching role in Middlesbrough's Academy, a position he has occupied for five-and-a-half years.
Craddock is thriving on his new journey.
He said: 'We lived in Southsea, by Canoe Lake, and loved it down there. Pompey is a fantastic club with so many wonderful people involved, such a great place.
'On the face of it, it didn't look like I was doing a lot while I was there because fans only see what you do on the pitch.
'To be fair, I was actually making good use of my time while injured.
'I had been around the Premier League as a young lad at Middlesbrough. You hear players speaking and you take things in. I learnt that even those earning £30-40,000 a week were not necessarily set up for life.
'I was well aware that I wasn't going to be able to retire on the money I earned and needed to do something after football.
'During my time injured at Pompey, I started a sports science degree, getting my feet on the ladder in regards to coaching.
'I had planned to finish the qualification while still playing, so the transition would be a lot quicker, but, as I was injured, the timescale changed.
'I was aged 26 with a serious injury. You need to bury your hand in the sand a little and convince yourself you're going to come back, but also you require a bit of foresight. I was looking ahead.
'Is any job going to replace what you get from football? No. Yet I wanted to stay in sport to pass on some of my experience to young people.
'My knee operation didn't work in terms of I wasn't able to get back playing football. However, it worked in the sense of I am able to do things later in life.
'I can go for a kickabout with my son, take on a 5k run, or join in with my PE lessons at school. If it had carried on, it would have been extreme arthritis in the knee and pain all over.
'I couldn't continue as a professional sportsman, but life goes on. It has for me.'
A message from the Editor, Mark Waldron
The News has launched a new subscription offer which gives you unlimited access to all of our Pompey coverage, starting at less than £1 a week.