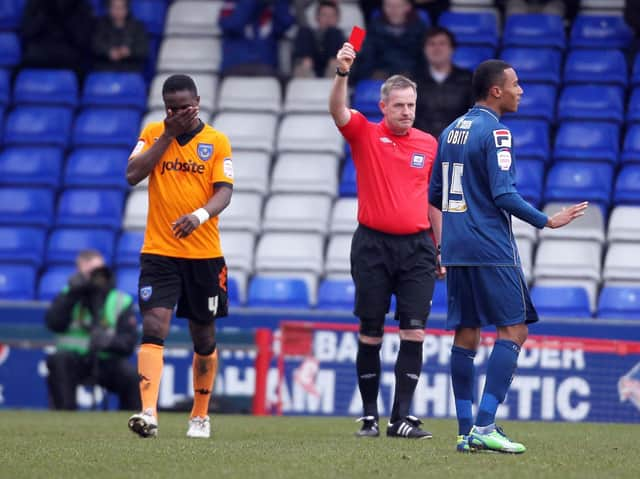 Pompey's Sam Sodje gets his marching orders from referee Mark Heywood against Oldham in February 2013
It took five years and four court cases to successfully scrub away match-fixing accusations emanating from that February 2013 incident against Oldham.
Sodje's character is unblemished, yet accusatory looks linger.
Having honed his playing talents barefooted on Nigerian streets, the defender progressed from non-league surrounds, once fetching a transfer fee of a few bibs and a couple of balls, to reach the Premier League and represent his country.
It's an inspirational tale, yet tainted by an undercover sting orchestrated by The Sun on Sunday's former 'Fake Sheikh', reporter Mazher Mahmood.
It was claimed Sodje accepted £70,000 to be sent off for Pompey in that Oldham encounter.
In the subsequent lengthy battle to clear his name, the final Old Bailey date saw a not guilty verdict delivered in January 2019 on four charges of money laundering.
And now, for the first time, the ex-Leeds and Brentford man is ready to share his remarkable story.
Former Pompey player Sam Sodje is enjoying life after the long battle to clear his name during four court cases
'To be fair with you, I don't really mind telling people the truth. It has got to the point now where I have moved on, there is life after football,' Sodje told The News.
'I love you talking about it with me because I love people understanding that the Sam Sodje they see or think has a bad reputation doesn't really care. I went to court four times and came out victorious. So what more can I do?
'I grew up in Warri, the toughest place in Nigeria, and went on to play non-league football, I reached the Premier League, I represented my country four times and played in a World Cup qualifier. Then there was an attempt to try to stitch me up.
'But I will tell you what my lawyer said when I came out of court after I was proven innocent. He told me: "Don't think you've won. What you do from now on is what victory is". I have adopted that for the rest of my life – and I am winning.
Sam Sodje on his Pompey debut against Colchester in February 2013, a match which finished in a 3-2 Fratton Park defeat. Picture: Ian Hargreaves
'You move on. I don't shy away from it, I love people asking, I just hope other players will learn from what happened to me.'
As a whole-hearted defender, Sodje saw service with Stevenage, Margate, Brentford, Reading, West Brom, Charlton, Watford, Leeds, Greek club Skoda Xanthi and Notts County.
Then, in January 2013, he arrived at Fratton Park as a free agent, reuniting with former Charlton physio Steve Allen for the challenge of maintaining Pompey's League One status.
For the following month's trip to Oldham, with the Blues winless in 21 matches, caretaker boss Guy Whittingham handed Sodje his fifth appearance.
Sam Sodje made four appearances for Nigeria. Picture: Michael Steele/Getty Images
Pompey were trailing to Jose Baxter's first-half opener when, on 50 minutes, Sodje was shown a red card by referee Mark Heywood.
The official had been alerted by a linesman to the Pompey man throwing two low punches at Baxter, the second of which landed well below the belt.
It warranted an immediate three-match suspension – yet reverberations are still felt to this day.
Sodje added: 'The Oldham guy (Baxter) said something to me which I don't want to repeat and don't like.
'There was a tackle, which wasn't even on me, but I went to help a team-mate and got involved.
'Their player said something to me that wasn't nice at all, and I just lost it. That's why I did it. I hit him.
Sam Sodje is carried aloft by Brentford fans after FA Cup victory over Sunderland in January 2006. Picture: Paul Gilham/Getty Images
'He later apologised – and I accepted that.
'I wouldn't hold it against him (Baxter), he's a top guy, but that's football. Players will say anything to put another player off balance. As long as it's in the match, that's fine. I have nothing against him.
'It was years ago. If you asked me to tell you exactly what he said, I probably wouldn't be able to tell you. If I could remember, it means I wouldn't have forgiven him. It's very good that I don't recall.
'It's done now, but, at that time, I didn't take it particularly well.'
In December 2013 – six months after his Oldham sending off – Sodje was arrested in a dawn swoop by detectives affiliated with the National Crime Agency.
The 34-year-old had been the subject of football corruption allegations following findings put forward by undercover reporter Mahmood.
It centred on Sodje being filmed claiming he could arrange for players to earn yellow cards in exchange for cash, citing his Oldham dismissal.
However, in July 2014, singer Tulisa Contostavlos' trial over drug allegations collapsed following concerns surrounding evidence provided by Mahmood.
Outside court, she described The Sun on Sunday article which brought proceedings as 'a horrific and disgusting entrapment'.
Following a review of other evidence supplied by the 'Fake Sheikh', the Crown Prosecution Service announced in January 2015 that Sodje and 12 other footballers would face no further action on the grounds of insufficient evidence to provide a realistic prospect of conviction.
In October 2016, Mahmood himself was jailed for 15 months after being found guilty of conspiring to pervert the course of justice in Contostavlos' trial.
Sodje said: 'It's simple. What he (Mahmood) does is he comes to you and gives you a false idea of what he is. Whatever he asks you and whatever he is saying is then taken away – and it's only my answer which goes in the news.
'You have to watch the whole tape, it tells everything that was going on. What appeared in the media was only parts of it.
'I am not a gambler, I don't even know what odds are. When players go to away games, they bet on cards, I didn't even do that. I am not a gambler, so how do I go from there to becoming a match fixer from Singapore?
'Am I bitter? No chance. I've worked so hard to be who I am. I am really proud of what I have done in life, so proud, and nobody can take that away from me.
'People can say "He's dodgy, he's dodgy". That's your opinion, good luck to you, I am sure there are a lot out there judging me.
'Watching me play football, you will understand I am an honest person. If I do something wrong, I'd come out and say sorry. If I didn't do it, I will stand strong, fight and die for it.
'I give everything. At every club I played for, I left as a cult hero. Leeds, West Brom, Charlton, Reading, Brentford, go and look at it. When I left, fans would say "Sam would die for the cause". That's who I am.
'I can tell you, reputation is about how I look at myself. It doesn't matter what others think of me.
'When I was going through my knee pain, you weren't there. I was there. How I got to be a professional player, you weren't there. I was there. I worked hard to be able to not have your opinion count.
'I know who I am and I'm so proud, so proud. I didn't want to let what happened define who I am, I'm still living my life and am proud of everything I have done.
'I moved from London to Nigeria at the age of four, before returning to England aged 19-20. If you grow up in Warri, you can grow up anywhere in the world. I didn't even have football boots.
'That was my background – I hate the way you say you can't do it, you can. You can.
'So, for me, people's opinions don't count. This is my life.'
Sodje left Fratton Park in the summer of 2013 following nine appearances and relegation to League Two.
It signalled his final club, the agonising pain from a right knee devoid of cartilage dictating the hanging up of his boots at the age of 33.
Sodje, however, refuses to blame the subsequent match-fixing allegations for destroying his playing career.
In truth, he had retired six months earlier.
'I could have stayed at Pompey, I was even offered a new contract before the end of the 2012-13 season, after the Sheffield United game,' he said.
'Although I enjoyed it there, I was playing in so much pain while giving my best for the club. My knee would blow up after every match, there was a lot of fluid in it. I'd have to visit hospital for an injection to put steroids in it for the next week.
'In the end, there was a choice between signing me and another defender. It was okay, that's business, it's not personal. I'd had enough anyway - and the decision was mutual.
'I didn't play football again, which tells you how much I put into the club.
'I had the chance to go to China for a big money deal after Pompey, but my body just couldn't take it. I had worked so hard and put my body through so much pain.
'Listen, if I wanted to play and didn't have my knee, believe me I would have got 20 calls. If I could play, 20 clubs would sign me, I am telling you. I was too much of a good player not to get a club. Fact.
'The reason why I couldn't play on was down to my knee being really bad. I'd been like that for seven years.
'It started when I left Brentford, but there were still big games and Wembley finals. I represented West Brom against Derby in the May 2007 Championship play-off final on one knee!
'Please understand, there is a reason why I am so confident. I am never arrogant, I'm so humble, look at my background, where I came from. Nobody can take away what I achieved in football.
'But, after Pompey, I didn't want to play anymore, it was too much.'
In 2017, Sodje's brothers Efe, Stephen and Bright were found guilty of siphoning off money from their charity to help disadvantaged African children.
The case against Sam Sodje collapsed, with a retrial taking place at the Old Bailey in January 2019.
The ex-Pompey player was subsequently cleared on four counts of taking part in a fraud in which bank accounts were used to channel money from companies around the world.
He added: 'That last court case was off the back of the Fake Sheikh.
'I wasn't guilty and it was proven in court.
'Now I am more than enjoying life, that experience has made me a different kind of guy for the better. I can now talk about what happened.
'I am working in a lovely job as a head of technical/youth development in Delta State, Nigeria. I've done my coaching badges and am giving something back.
'Life is good. I share my time in Nigeria between living in Dartford, Kent, with my wife and daughter. This is who I am.
'Do you know what, through everything I didn't lose any friends. I had people who knew me, they knew who the real Sam is, that I would never do that, ever.
'As a player, I would go home and cry if I'd lost a game, I wouldn't leave the house for two days, I couldn't even sleep if I'd had a bad game.
'So throwing a match? You are kidding me.'
A message from the Editor, Mark Waldron
The News has launched a subscription offer which gives you unlimited access to all of our Pompey coverage, starting at less than 14p a day.
Sam Sodje made nine appearances for Pompey during the second half of the 2012-13 relegation campaign. Picture: Joe Pepler