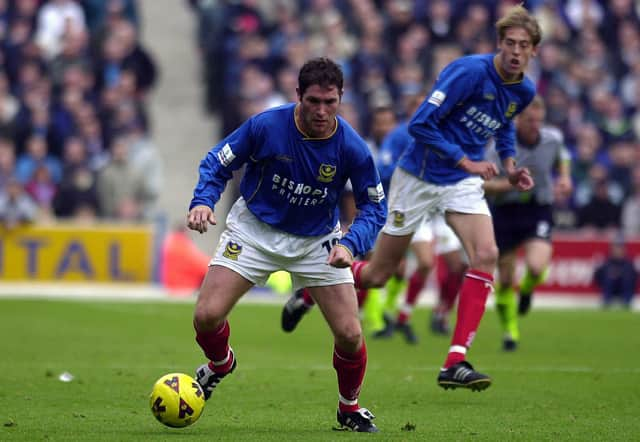 Lee Bradbury, who scored 46 goals in 167 appearances in two Pompey spells, endured an unsuccessful time at Manchester City
The striker left Pompey for their Division One rivals in a £3.5m deal in July 1997 following a prolific Fratton Park season which saw him net 17 times in 49 appearances.
Recruited by Frank Clark, it turned into a disastrous season for City, who ended up being relegated to Division Two – the third tier of English football.
Bradbury also struggled, failing to win over the supporters as he netted just seven league goals during that relegation campaign.
And, in particular, the difficult atmosphere at a 'massive' club which failed to fulfil the pre-season ambition he witnessed when arriving.
'While on pre-season in Scotland, I was sharing a room with Sammy Igoe when I received a phone call informing me a fee had been agreed – I was then asked which of the two I wanted to talk to.
Lee Bradbury gave fine service to Pompey having initially been bought out of the Army by Terry Fenwick
'Former team-mate Paul Walsh was my advisor, with Eric Hall also representing me, and Manchester City my preference.
'I left our tour, met in a Manchester hotel and the deal was completed that evening, with training with my new team commencing the following day. I spoke to no other club.
'It meant that in July 1997 I left Pompey in a £3.5m deal, which was sad to be honest, but at the same time the best outcome for me.
'Albeit in the same division, I was heading to a massive club, somewhere to challenge myself, playing under more pressure, performing in front of 30,000 supporters and trying to win promotion to the Premier League.
'I wanted to be part of that, to give it a go. I didn't demand to leave the club which had presented me with professional football, yet was eager not to miss a new opportunity.
'As it turned out, my City debut in the 1997-98 season opener was against, of all clubs, Pompey.
'It was crazy, 10 days having departed Fratton Park I made my bow against them. For me, the fixture couldn't have been any worse, anybody but them, scoring against my old club would have been difficult.
'It was a baking-hot day at the start of August, Pompey were accompanied by almost 5,000 supporters among a crowd of 30,474 and, before kick-off, Oasis, who were at their height, entered the pitch.
'Liam Gallagher, wearing his trademark parka, walked up to the Pompey fans and started to goad them, you could see the stewards thinking "Just get him off the pitch".
'With the band being massive Manchester City supporters, we'd see them around the place quite a bit and they would invite us players to gigs. Being an Oasis fan, my wife and I once travelled to Sheffield to watch them and were invited backstage, so it seemed a good opportunity to get Liam's signature.
'I asked: "Can you put your autograph there for me, Liam?". He drew a goal with a little matchstick man putting the ball wide and wrote "In there (not)".
'It referred to a Coca-Cola Cup game against Blackpool the previous week, when I missed in a penalty shoot-out along with Kevin Horlock, eliminating us. I still have that autograph somewhere.
'I didn't get to know Oasis, though, just met them a couple of times backstage. Liam was always lively, whereas Noel was pretty laid back and calm. They were the world's biggest rock 'n' roll band at the time and, looking from a distance, I was almost starstruck.
'At the time, the £3.5m was the most City had ever spent on a player, but I told myself I hadn't asked for that money, I hadn't received any of it, it was a fee somebody paid for me to play football. I needed to maintain the same attitude which earned me the move.
'I scored 10 goals in 40 league matches for Manchester City yet, apart from one Pompey season, was never a fantastic goalscorer.
'Circumstances were also difficult to play in, on one occasion four or five City fans ran onto the pitch mid-match, ripping up season tickets in front of us, not a great environment.
'You transform from a confident player revelling in the supporters' backing to performing in this unpleasant atmosphere, lacking belief and reticent to shoot. Naturally it gnawed away at us as individuals and a team.
'I don't think fans realise what sway they have. If you worked in B&Q and I came in and booed you all day, saying you are this and that, how would you react? Are you going to say "Actually, I'm quite good at what I do?" or are you going to start doubting yourself?
'If one person does it, that's all right, but 20-40,000 people can have a major effect, more often than not.
'We felt the club was too big to go down, but the side wasn't good enough to stay up. City were relegated after finishing one point and two places below Pompey.
'However, I was back in Division One in October 1998 when Crystal Palace bought me for £1.5m, with Terry Venables their head coach and Mark Goldberg the owner.
'My wife was eight-and-a-half months pregnant with our son, Harvey, and we felt out on a limb up in Manchester. She is also from the Isle of Wight and wanted to be closer to home, London representing an hour-and-a-half journey rather than five hours.
'I craved a fresh challenge and knew Terry from Pompey, where he had instilled confidence in me, so that was attractive straight away.
'Goldberg put a hell of a lot of money into Palace, every bead of sweat, but it didn't work out for him, the club were put into administration six months following my arrival and players had to be cashed in on.
'In October 1999, we beat Pompey 4-0 at Selhurst Park – and within 12 days I'd rejoined my former club on a five-year deal for a £300,000 fee. I was home.'
Bradbury made 167 appearances and scored 46 times for Pompey during two spells, from August 1995 to July 1997, and October 1999 to March 2004.
A message from the Editor, Mark Waldron
The News has launched a new subscription offer which gives you unlimited access to all of our Pompey coverage, starting at less than £1 a week.