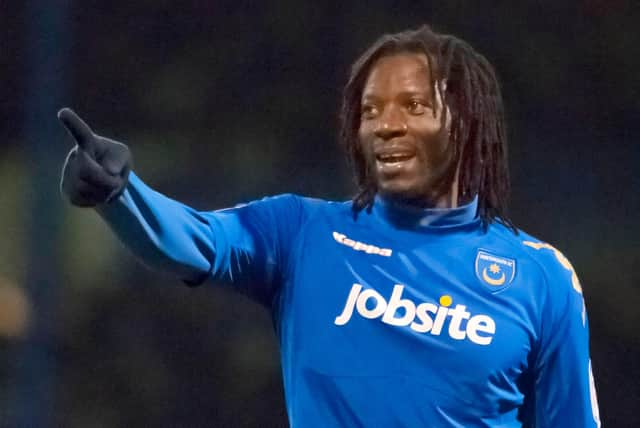 Benjani sets the record straight on that Manchester City airport episode in forthcoming book Played Up Pompey Three. Picture: Barry Zee
The story of the former Pompey favourite falling asleep at the airport to avoid a Manchester City transfer has become a party piece rolled out with regularity by Harry Redknapp.
Yet, according to Benjani, it doesn't represent the truth.
Not that the Zimbabwe striking legend possesses ill will towards Redknapp, the boss who brought him to Fratton Park before selling him to Sven-Goran Eriksson on deadline day in January 2008.
Played Up Pompey Three comes out on September 9 and features 23 Fratton favourites
Nonetheless, Benjani is adamant what actually occurred has been embellished for the sake of making people laugh rather than accuracy.
'Sometimes, when you are telling a story, you need to make people laugh, to enjoy the tale even more,' Benjani told forthcoming book Played Up Pompey Three.
'Tell them the boy didn't want to go and then couldn't be found at the airport, we all like to have a good laugh sometimes. It's okay, I don't mind. You know what Harry Redknapp is like – but I didn't fall asleep, that's the honest truth.
'Harry was the greatest man manager I came across in my career, he always supported me. I love him, love him, he's a great man, but the day I left Pompey didn't quite happen in the way he likes to tell.
Benjani retired from football in June 2014 and still lives on the south coast
'I've heard him saying he had to push me on to the plane to go to Manchester City. Of course he spoke to me about the move, but he didn't push me like that.
'It was a strange one, I have to admit. Normally with a transfer, you talk about it for 10 days or a fortnight, you're aware there could be a move, whereas, on that occasion, I didn't even have a full day to think about leaving Pompey.
'At that moment I was playing well, scoring goals, leading the Premier League charts with 12, while our team had a good rhythm and were ninth, all was well.
'Then we lost 2-0 at Manchester United on a Wednesday night in January 2008, with Cristiano Ronaldo scoring both goals in the opening 13 minutes.
'That evening, flying back to Southampton Airport, there was a bit of chat on the plane about Manchester City's interest in me. Sylvain Distin told me they wanted me, so I then spoke to Harry: "I know there's some interest from City, what's going on?".
'When things come at you like that, you don't know whether the supposed interest is genuine; does that club actually want me or are they testing the water? Was it just an enquiry and perhaps nothing will happen?
'Harry confirmed City were keen and my response was: "But coach, I am happy here, unless you push it for me to go, but I'm happy". He replied "Okay, we'll talk about it in the morning.
'What I didn't know was Manchester City barely had a striker and their hunt had arrived at me – then Harry called in the morning, as promised. "Benji, these people are serious, so what are you saying?".
'I needed time to analyse things. You cannot say I wanted to leave or I didn't want to leave, this was 13-14 hours before the transfer deadline, that was all. I wanted time, but didn't have it.'
Benjani is among 23 Fratton favourites featured in forthcoming book Played Up Pompey Three, which comes out on September 9.
These include Niko Kranjcar, Mick Tait, Darren Anderton, Chris Kamara, Gary O'Neil, Martin Kuhl, Dave Munks, Kevin O'Callaghan, Gary Roberts, Tommy McGhee, Johnny Ertl, Lee Bradbury, Warren Neill, Dave Dodson, Ben Davies and Kenny Swain, with the foreword by Kev McCormack.
Also contained within its 275 pages is Michael Doyle on the infamous dressing room fight with Christian Burgess which almost led to his sacking, and John Durnin's recollection of arming himself with a kitchen knife to chase the Fiorentina team around the Marriott hotel.
Then there's Shaka Hislop on how hapless Kostas Chalkias refused to speak to him during their time as Blues goalkeeping rivals, while George Ley recounts the boxing match against manager George Smith staged in front of all the club's employees.
Sammy Igoe reveals how playing against Zico on Copacabana Beach helped save his Pompey career, and Richard Hughes spills the truth behind his ugly Fratton Park exit which saw him give up football for a year.
And, finally, there's Benjani, who departed for Manchester City in January 2008 after 94 appearances and 20 goals.
He added: 'From my Ringwood home to Southampton Airport, it takes about 20 minutes, so they were trying to find a Manchester flight from there, but there was none.
'Instead, I had to drive to Heathrow Airport, only to discover all the flights were delayed from 7pm. I don't even know the reason why.
'I didn't fall asleep, the truth was the flight was delayed, which made me very late for the signing.
'Perhaps that story was Harry's way of making sure Manchester City officials wouldn't ask him a lot of questions about my whereabouts.
'They were looking for me, so maybe there was the assumption I didn't want to go and then, to cover it up, it was a case of "Perhaps he's fallen asleep". I'm not sure how it all happened – but I was awake the whole time.
'I landed at 10.30pm and was taken to the stadium, but all the way I was thinking "Is this going to happen? Is there time?". I needed to take the medicals and to check the contract, yet we were getting so close to the deadline.
'If that wasn't bad enough, when faxing the papers to the Premier League, the fax machine collapsed. Everything was trying to stop me joining!
'I also needed to take a full medical, so it took five days after the deadline to sort out that £3.87m transfer.
'The timing of my Pompey exit was wrong, but when a great opportunity like that appears you have to take it – they arrive once in a lifetime.'
Played Up Pompey Three is out on September 9 and will be available on Amazon and at Waterstones, priced £18.99.
A message from the Editor, Mark Waldron
Thank you for reading this story. The dramatic events of 2020 are having a major impact on our advertisers and thus our revenues.
Every subscription helps us continue providing trusted, local journalism and campaign on your behalf for our city.