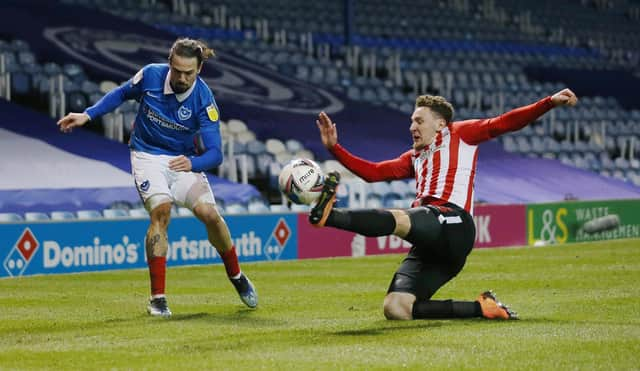 Gaffer for a Day Ben Bishop named Ryan Williams as his Pompey man of the match against Sunderland. Picture: Joe Pepler
What did you make of that?
It was an improvement on the weekend, but looks as good as it possibly gets under Kenny Jackett.
We are a team devoid of any fight, character or identity – and we've had this issue for a long, long time under this manager.
His team doesn't possess an identity. Every match I am trying to predict his side and never come close. I try to predict how we'll play and never come close.
Now Gillingham don't play the type of football you want to see, but you know exactly what it will be like. And it's effective too.
We are 11 players who look like they've been cobbled together and told to play as a unit. They need motivating – but Jackett isn't a motivator.
What's your opinion on the manager's future?
It seems as though our board are not going to do anything. They see the best option as sticking with Jackett while the play-offs are still possible. It's a steady ship approach.
Even if, by some miracle, we stay in play-offs and get promotion, I couldn't justify keeping him.
I genuinely don't think we'll finish in play-offs, we're on such a poor run and teams below are winning.
If it was up to me, I would sack him now. We need a motivator, an Alan Ball type, anyone who can light the fire.
Who was your man of the match?
Ryan Williams has deserved a run in the team for a while and seemed the only one likely to make things happen.
He was trying to get the ball, while others disappeared. Perhaps it's because he hadn't been in the team for a while, but he's more of a fighter.
When Marcus Harness made his debut last season, he looked a brilliant replacement for Jamal Lowe.
Then there's nothing for 6-7 matches before he turns up again. He can do it, but doesn't, and is the most frustrating player I've seen for a long, long time.
Do you believe Saturday's Wembley final has any worth?
No, not at all. I went last time and it was an unexpectedly amazing day out, brilliant. At the time everything was positive, we looked on the edge of promotion.
No offence to Salford, but this game is not a draw. I think we'll win it and then fall out of the play-offs the next day – and that's the bigger problem.
This is a meaningless trophy, it cannot be top of our priorities, but I will still be watching it. For some reason I still watch every single week and put myself through it.
The only home match I've missed since 1997 was for my honeymoon in Madeira in August 2012, when we lost 1-1 to Bournemouth.
I would boycott a Fratton Park game if there was a fans' protest, but otherwise it would be throwing your toys out of a pram.
A message from the Editor, Mark Waldron
On Saturday, March 13 Pompey will finally get their day at Wembley.
To celebrate the Blues' place in the rearranged 2020 EFL Trophy Final, The News has launched an offer that gets you 25% off all our Sports subscriptions.
You can choose your perfect Sports subscription here and use the discount code ROADTOWEMBLEY25 to get the latest news from Fratton Park for less. Offer runs until midnight on March 15.