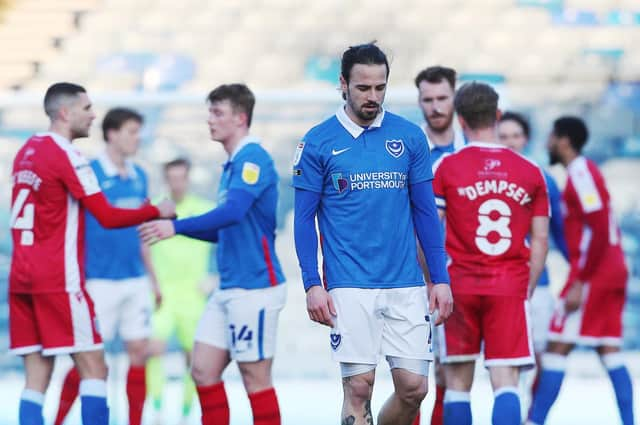 Ryan Williams looks dejected after Pompey's 1-1 draw with Gillingham on Saturday.
Don't try to predict what the Blues are going to do next. It's a mug's game.
Just when you think you know what result is on the way, they do the exact opposite of what you expect.
It's like trying to guess which way a rugby ball will go after bouncing.
Maybe it's always been like this, but the current season – even by Pompey's standards – has contained one unexpected result after another, good or bad.
Most thought we'd get a good start with an innocuous opening set of League One games and we totalled two points from three games.
After that we thought it was going to be a long season of struggle but within a month the Super Blues had turned over Burton, Sunderland and Northampton and scored a hatful of goals.
Come the start of 2021 the good form continued, so we thought back-to-back home games against top teams Hull and Lincoln were perfectly timed. Wrong.
Charlton away after two home defeats brought a pleasant surprise of a win, then that wasn't built upon.
Form was right off again ahead of the trip to Oxford, who were winning every week. Result? Away win.
So how on earth can we forecast what the rest of the season will bring?
It's tempting to think the Blues will carry on winning away and struggling at home, but (to use a phrase that Mike Neasom loved) in this 'switchback season' it wouldn't be a surprise if our home and away form each now turned on their heads.
The good thing is pretty much all the teams around us are suffering similar inconsistencies.
Just when you think one of them is set to go racing clear with a succession of wins, they lose a couple.
The run-in is set to be a thriller. Just don't try to predict it.