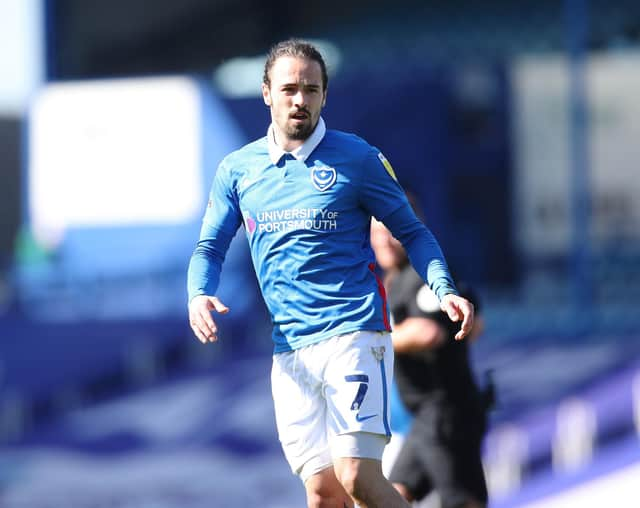 Ryan Williams netted Pompey's opener in Friday's 2-1 victory over Rochdale. Picture: Joe Pepler
And the 'different voice' has also enabled the Blues to thrive, according to the Australian.
Kenny Jackett brought Williams back to Fratton Park on a free transfer from Rotherham in June 2019, employing him as a first-team regular.
The attacker retains a genuine respect for his former boss, who was replaced more than a fortnight ago by Cowley.
Regardless, the Cowley era has kicked off with three successive wins and generated an infectious positivity around the Blues.
And Williams believes the managerial change is now bringing the best out of Pompey's players.
He told The News: 'It's hard to say too much without upsetting the last manager because I have too much respect for him.
'I think it's just fresh ideas, a different way of playing, and it has made the boys really concentrate on what they are doing and focus on different things.
'A different voice, different ideas, different direction – it has given us that boost that we need.
'Under the last manager we did play some good stuff and did win a lot of games, but the way we are playing now is a different style.
'Each manager has their own way of playing and the way we are playing now – at this point in time – really suits us because of the personnel we have.
'It's pretty much the same system, just a different way of playing.
'As you can see, the defenders have a lot bigger role on the ball, so do the midfielders, and they have to get the ball up to the forwards.
'Ronan was occupying their centre-halves and we do go longer at some points, but down the sides rather than down the middle.
'Craig's had more responsibility on his shoulders, so have the two centre-halves, so have the two midfielders. The full-backs have to get a lot higher now, which creates more space in the middle for our midfielders to get onto it.
'It has been good, it is so different and fresh at the moment and just what we've needed at this point of the season to hopefully go on a run now.'
Ronan Curtis joined him on the scoresheet as Pompey maintained their position of fifth.
Williams added: 'My running now is a bit more efficient. Now when I'm pressing, it's more of a counter press.
'When they have the ball you stop them from playing out – but then when we have it and lose it, that's when you want to press.
'Go and win it straight back and then have it again. When we've got the ball just try to occupy it a bit and come into spaces.'
A message from the Editor, Mark Waldron
The News has launched a subscription offer which gives you unlimited access to all of our Pompey coverage, starting at less than 14p a day.