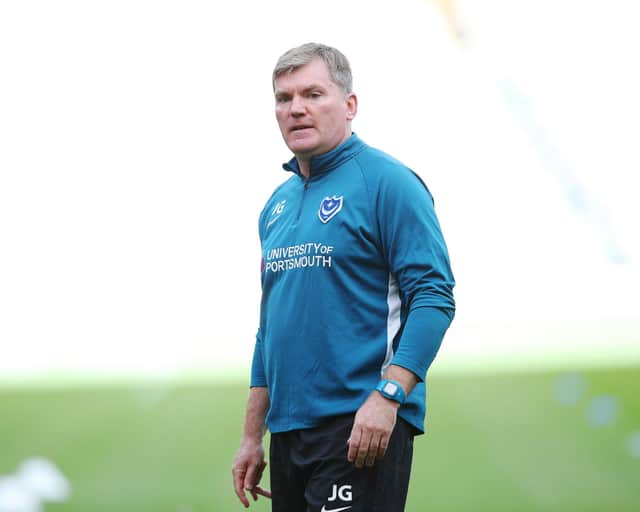 Pompey assistant manager Joe Gallen insists he's unaware of supporter feeling having opted to avoid social media and articles. Picture: Joe Pepler
As a consequence, he claims he is unaware of the strength of feeling among fans towards Kenny Jackett and his team.
Gallen has been a trusted aide of the manager at Millwall, Wolves, Rotherham and now Pompey.
And he has learnt to adopt tunnel vision in pursuit of bringing success to a club.
He told The News: 'I haven't really read any press now for 10-14 days.
'I'll tell you a secret, I didn't even look at the league table until we won on Saturday!
'I knew I wouldn't have liked what I would have seen, that's the truth. As soon as we beat Burton, I had a look. I'm just being honest.
'I am not a fan of Twitter or Facebook, it's not for me, I haven't read anything.
'It's tunnel vision, you have to block everything out and try to win the next game. That is Southend - and the only thing which matters.
'I can only talk for myself, that is my approach. My reasoning is the most important thing is the next game and trying to get the team right and the players right.
'My focus and concentration is always on the next game, always on the players. I'm always looking at the opposition and how we can hurt them, always trying to win the next game.
'I understand that when you lose there's going to be some criticism, but you can't dwell on that and let it become the focus.
'The focus is making sure the team is fit, making sure that the training sessions are working, making sure we are prepared properly, making sure we get the right team out there.
'It's about motivating and tactics, not what is going on outside the club.'
Following Saturday's victory, the Blues are positioned 11th in League One following four matches.
Then the week is completed with MK Dons journeying to Fratton Park in behind-closed-doors league action on Saturday.
Gallen added: 'I am not that aware (of supporter unrest), I haven't read anything for two weeks, so don't really know what's going on.
'I have been around quite a long time, so know how it works, but I'm not aware of the details.
'I really don't know. Hand on my heart, I really don't know.'
A message from the Editor, Mark Waldron
Thank you for reading this story. The News has launched a new subscription offer which gives you unlimited access to all of our Pompey coverage.
Every subscription helps us continue providing trusted, local journalism on your behalf for our city.