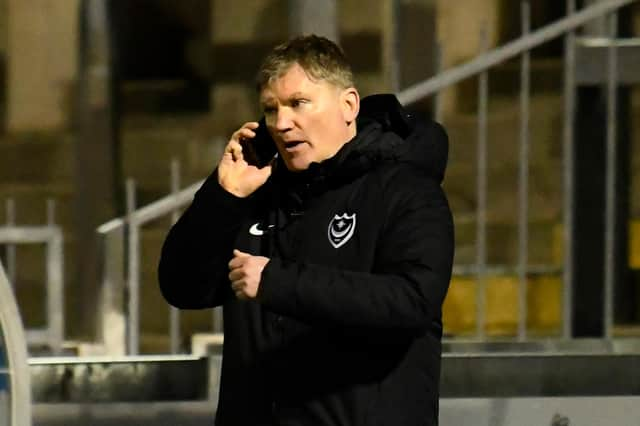 Joe Gallen on the phone to Kenny Jackett during last night's 3-1 defeat at Bristol Rovers. Picture: Graham Hunt/ProSportsImages
Assistant manager Gallen and first-team coach Jake Wigley instead took the reins, while communicating via telephone with Jackett throughout the match.
The manager is expected to be absent for two weeks, ruling him out of another four matches.
And Gallen, who has served by Jackett's side at four clubs, conceded the manager would be missed during his period of convalescing.
He said: 'Kenny's having an operation on Thursday, but my belief is he will be back pretty soon.
'I don't know, I'm not a doctor, so it's tough for me to give the diagnosis, but knowing Kenny like I do, I think he'll be back in the next week or so.
'He'll have the operation and some sort of recuperation required, he'll be back pretty soon.
'You would always miss him, if any manager of any company or any team is not around then the players may have slightly missed him.
'Kenny has a lot of experience and is heading towards 1,000 games, which is pretty unheard of in English football.
'Of course we are going to miss him being not around. He's very experienced and a very good manager.
'Having said that, I'm pretty confident that everything we do will be kept in the same line as it has been, with Kenny on the phone having a chat about the changes. It's not too different.
'But I think you would miss anyone of that experience.'
Pompey now entertain Blackpool on Saturday as they bid to bounce back.
And Gallen will once more be at the helm.
Gallen added: 'It's not like I lack confidence at all, I have been around 22 years doing this.
'I was pretty confident about last night, pretty confident that we could get a result – of course I'm disappointed that we haven't got one.
'But you have to dust yourself done and get onto the next one.'
A message from the Editor, Mark Waldron
The News has launched a new subscription offer which gives you unlimited access to all of our Pompey coverage, starting at less than £1 a week.