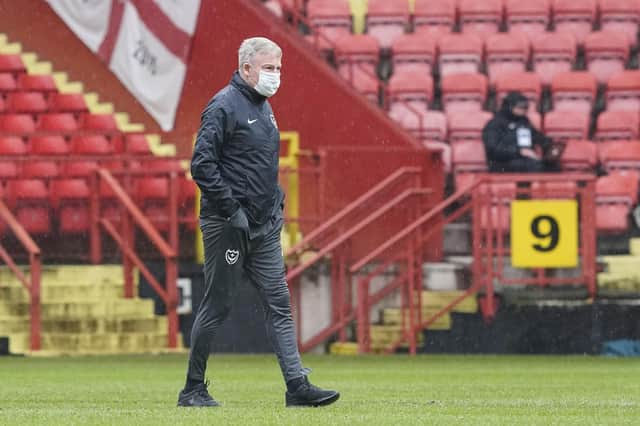 Pompey boss Kenny Jackett inspects the pitch before his side's game at Charlton was postponed. Picture: Jason Brown
A second pitch inspection was carried out shortly before 2pm, with Madley abandoning the fixture.
It means Pompey will have to cram in another rearranged fixture in what's already a hectic 2020-21 season amid the coronavirus pandemic.
Jackett wanted the game to go ahead - but could understand why the decision was made.
He told the club's website: 'It's frustrating because we were at the ground and ready to go. The referee's opinion is that that pitch isn't playable and it's not going to improve.
'The forecast is for more heavy rain until around 4.30pm – and possibly longer – so it's going to get progressively worse.
'It's an experienced referee who has made the call and so we have to accept that decision.
'You do wonder when some of these games are going to be fitted in and what the pitches are going to be like when they are.
'We certainly won't be doing anything today, but we'll have a think and might do some work tomorrow.'
The game is the second fixture Pompey have had postponed this season because of the weather.
The Blues' trip to Accrington on January 2 was scrapped because of a frozen Wham Stadium pitch.