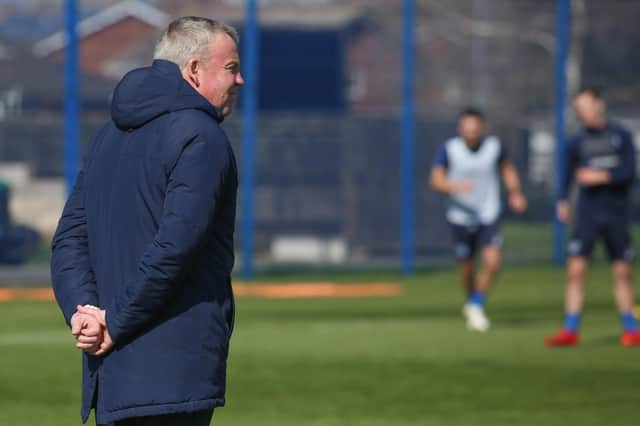 Kenny Jackett observes training before the coronavirus lockdown. Picture: Habibur Rahman
The training grounds of Arsenal, Brighton and West Ham were today reopened to allow players to carry out individual work.
It signifies the start of football's gradual return to action ahead of a potential June 6 restart.
In terms of the Football League, May 16 was previously mentioned as a training resumption for its members, enabling them to fit in with the league restarting the following month.
As it stands, however, the Blues are unsure whether that remains realistic and do not have a date in mind.
In the meantime, Pompey's players are maintaining their individual training programmes in the build up to when their return can been given the green light.
Jackett said: 'There are no problems with the players and not a lot is really changing in terms of their individual programmes,
'In terms of the league, there are no real guidelines, although things are being discussed.
'But there's many more questions than answers and unfortunately I haven't got any answers for you about when we are coming back.
'For the direction given to us, we are going to have to get going in terms of fitting games in around June, otherwise it gets very, very tight for next season.
'June or July was always a target and I haven't heard anything different.
'You are looking at those particular dates, we have all been saying there won't be games before then, we will see.
'It does look like it needs to be either June or July, it's tough to put it back any further.'