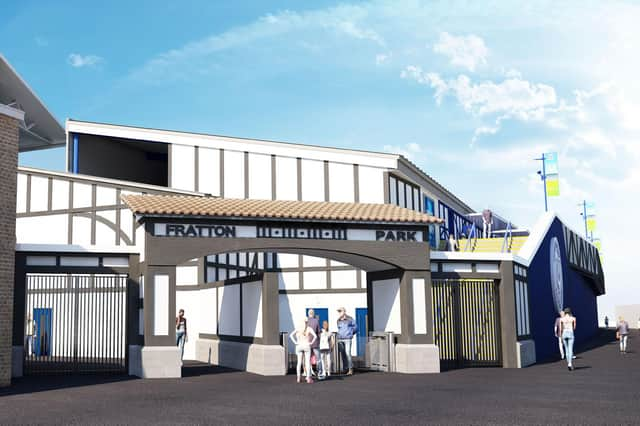 Designs for Pompey's redevelopment of the Milton End at Fratton Park. Picture: Portsmouth Football Club
Planning permission was granted by Portsmouth City Council in August for phase one of the proposed development of Fratton Park.
It will increase the Milton End to a 3,200-seat capacity stand as well as upgrade its amenities.
The last floodlight pylon at Fratton Park coming down. Picture: Steve Hopes
The Blues have been looking for assistance from the local council, Highways Agency and Network Rail to build the infrastructure needed to sustain a stadium with a capacity of around 30,000.
And despite the floodlight being deconstructed, Pompey's vision remains at a deadlock.
Speaking in his November 2020 Q&A update, chief executive Caltin said: 'The coming down of the final floodlight was never really anything other than symbolic in the work we are doing and bringing the stadium up into the 21st century.
'In regards to the Milton End, which is part of bringing the stadium up into the 21st century, there is a lot of other things at play that forms part of the overall masterplan - which we have always been clear about from day one when releasing plans.
'It is dependent on the wider picture and knowing we are going to get that help and support.
'It's not the Milton End in isolation, it's that we can fulfil our ambitions and dreams for Fratton Park and the wider area sometime in the very near future.
'I've got to stress it's not in our hands. I hate using the word but there are a lot of external stakeholders; Network Rails, highways agencies, our local residents, the local council and even the government.
'There are a lot of people who need to be on board with us to realise our ambitions for the stadium. They don't move quickly, especially during this time.'