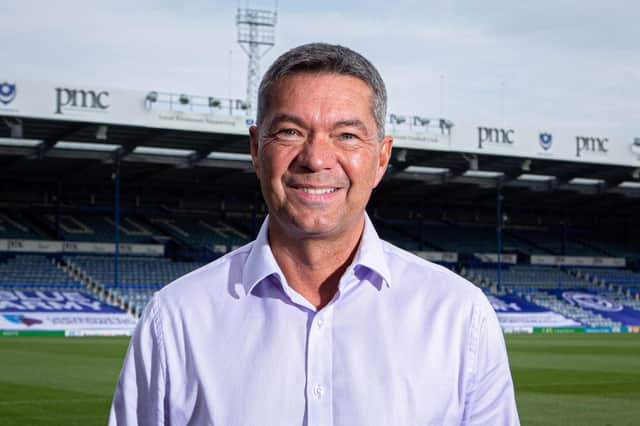 Mark Catlin believes the removal of the salary cap is 'great news' for Pompey. Picture: Habibur Rahman
An independent arbitration panel today ruled that League One and League Two's wage caps should be removed.
The Football League had implemented the ceiling in August, ahead of the 2020-21 campaign, after voted through by members.
However, it was immediately challenged by the PFA.
For Catlin it represents positive news having consistently fought against the concept.
Pompey's chief executive told The News: 'In the short-term immediately, it means the salary cap has gone and we can get back to some level of normality in how we retain and sign players.
'Obviously the window has gone so there's very little we can do with new players, but for the future of Portsmouth Football Club and larger in League One, it's great news.
'We are not really opposed to the underlying principles of a salary cap. Actually, I would argue we are the biggest advocates in the four divisions for true self-sustainability.
'Self-sustainability isn't about levelling the playing field and there are a number of clubs in our divisions.
'It is not self-sustainable to have a £2.5m budget and yet they are being allowed to run their club with owners still being allowed to put money in - and we can't even spend what we can generate without asking the owners for money.
'I thought the EFL's argument was fundamentally flawed and the shame of it is that, with some tweaks and adjustments, it could have potentially been negotiated.
'We could have arrived at a solution where all parties were happy – but it just seems generally the League One and League Two clubs wanted to plough on in a certain direction.
'We didn't particularly agree with them and, to be fair, a few clubs didn't either.
'But you can't argue that it didn't have a fundamental impact on players' salaries.
'Of course it did – and that was always the flaw of the argument.'
A message from the Editor, Mark Waldron
The News has launched a new subscription offer which gives you unlimited access to all of our Pompey coverage, starting at less than £1 a week.