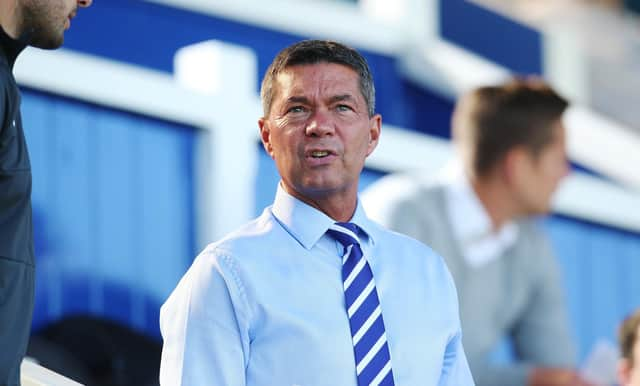 Mark Catlin
And the Pompey chief executive revealed a late change of heart by one of the League One members was the deciding factor in seeing a ceiling implemented – an outcome first revealed by The News.
That meant exactly the number of clubs required to meet the 66 per cent threshold in League One was met.
Catlin said: 'We're very disappointed, one more vote and we would have been able to stop it.
'But we have to respect the views and opinions of the majority of the clubs in League One.
'So we now have to move on to the next stage.
'Sixteen was the required number of votes and the number who voted for it was 16.
'Unfortunately, a couple of clubs changed their minds this morning which was disappointing.
'I was speaking to clubs pretty much daily and it was taking up huge amount of time, so I knew it would be close.
'I knew one was in the middle and likely to abstain, but I spoke to one club this morning who said they were going to flip their vote.
'After speaking to the EFL at length this morning they changed their mind. That's their decision.
'We have to respect the majority rule and we're part of a democratic organisation.'
Catlin feels there is little time to linger on the impact of the vote and Pompey have to quickly moved forward with the league season starting on September 12.
He underlined he can see why members voted for the cap, despite his opposition it.
Catlin said: 'You can't cry about it, you just have adapt and get on with it.
'While we're hurting over the decision, we always knew it was going to be close.
'But given the size of the clubs in the league it made sense for at least 16 clubs to vote for it.
'Given the current financial position of clubs you would expect them to vote in their own self-interest. I can't knock that.
'I understand the vote in League Two was 22-2. That shows the size of the clubs involved.
'In League One there are eight clubs I would consider big. They are the ones who didn't support it.'
A message from the editor
Thank you for reading this story. The dramatic events of 2020 are having a major impact on our advertisers and thus our revenues.
Every subscription helps us continue providing trusted, local journalism and campaign on your behalf for our city.