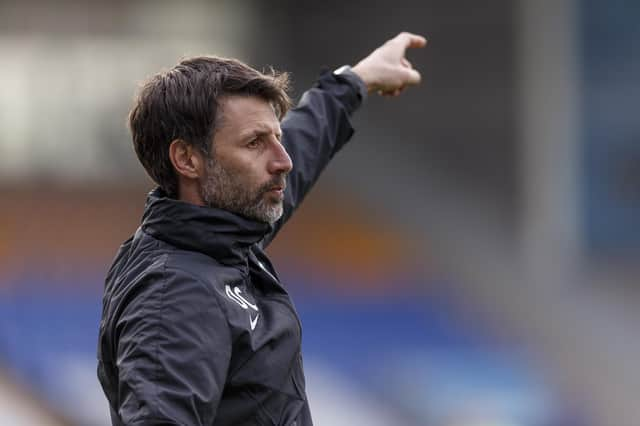 Pompey head coach Danny Cowley
Here, Rooney, offers his opinion on the current mood in the camp, Cowley's positive approach, team performances, momentum and hunger among the team ranks.
Q There's no getting away from the fact that this is a big week for Pompey with games gainst Swindon tonight and then Bristol Rovers on Saturday.
Will: Judging by Callum Johnson's comments after the MK Dons game, the players know how big a game this is tonight as well.
It could make or break Pompey's season potentially if they continue to drop points.
You expect their promotion rivals, the likes of Oxford, Lincoln and Charlton, to pick up some points from their games against Wimbledon, Plymouth and Burton respectively.
Pompey have already dropped out of the play-offs and Charlton are right behind them with a game in hand.
This week is a massive opportunity that they simply can't afford to let slip, because, let's face it, they're playing two sides they should be putting to the sword.
Swindon have got their well-documented problems with John Sheridan leaving, while Joey Barton's come in and lambasted everything that's went before him at Bristol Rovers.
If Pompey don't take six points from the next two games, then you're going to be really really disappointed.
Q The past three results have been very disappointing. What's the mood in the camp at present – both from the manager's perspective and that of the players?
Will: It's hard to tell sometimes.
This season is harder because we are not down at the training ground, so we can't really gauge the real atmosphere of everything.
But I just get the impression that Danny Cowley is: A, really concerned with the injuries that are mounting up, and B: the worried about the fitness of the squad.
And then, on top of that, I get the impression that he's a little perturbed about some players' attitudes on the pitch, not staying positive, and having a bit of a moan when things aren't going to plan.
He made a real point of that in the press conference on Monday.
He spoke about it at length about the need for more positivity.
One example he used was if a winger puts in a cross and the striker heads it over, the winger puts his arms up.
That's basically the winger saying 'that's my job done'.
Instead, he wants the winger to tell the striker 'I'm going to put two more on your head' and you're going to score the next two.
That's the crux of it really. The fitness is concerning, and there are some questions over attitude.
In terms of the players, I think the new manager bounce and the effect of that is definitely gone.
When Kenny Jackett was sacked, we were hoping there would be a lift, and initially there was.
But maybe it's the players again who need to take a bit more responsibility.
We've heard how good these players are, and on paper they've got a good squad, but now they need to go out and prove it.
A lot of these players have been here three years now, and if you can't get out of League One after three attempts, then you have to start questioning whether the players will really take this club forward.
Q Cowley seems to be depending a positive approach to get the best out of the players and to overcome some of the difficulties you mention, but is it working?
Will. Well, he's got to do that hasn't he. It's worked for him before in the past.
Obviously, he's had success right the way through his career doing that, and I'd even count Huddersfield.
He did a phenomenal job to keep them in the Championship, so it's clearly worked before and that's what he thinks this squad needs.
He said he had to bite his tongue on Saturday after the game. He said he didn't want to articulate himself in the wrong way.
But maybe, if a poor result happens tonight, he needs to read the players the riot act.
Let's face it, Kenny Jackett wasn't that sort of manager, who would really have a go at his players.
We've seen that after Northampton, he had every right to come out to the press and really slaughter his players after that performance, and he didn't.
So maybe if things continue on a decline, then Danny Cowley needs to go from one extreme to the other and tell the squad a few home truths to make sure it resonates with four games to go.
Q How removed are current performances from what Cowley expects?
Will: I think Saturday was better. They moved the ball a lot quicker and there was more meaning to the passes which is what the Cowleys want.
But in terms of playing out from the back, you do wonder if Pompey have the players to do that.
Sean Raggett, we know, is not a ball-playing centre-back. Craig MacGillivray is not a ball-playing keeper – he primarily gets his basics right and gets the fundamentals correct.
Charlie Daniels has struggled a bit. Callum Johnson is still adjusting, so that's the worry.
Playing out from the back, perhaps in a short space of time, it might not work.
Going forward, Cowley wants a bit more aggression, and obviously after Saturday, a bit more ruthlessness in front of goal.
We did create a few chances in the first half and couldn't take them.
Q Momentum has been lost in recent games – can it be retrieved in time to make the play-offs and carried through beyond the end of the regular season?
Will: Yes of course, if they pick up two wins this week and cement themselves in the top six, you're going into three games with a real chance.
If that can't produce a buzz in the camp and positivity and optimism, then what can?
With three games to go, you've got to think they've got to keep this going to get into the playoffs, and if you do drop points at Accrington or Wimbledon, then it doesn't matter because we know what we're capable of and we've got that little bit of momentum behind us.
In the play-offs, it's another ball game, and you think, considering the injury list that Pompey are struggling with, it might be a step too far.
In terms of the Cowleys, their overall aim was to get this club into the top six when they arrived, and that would be mission complete.
Irrespective of Swindon's form and their managerial situation, do you expect a response from Pompey tonight?
Will: Yes of course. I think these players have got to look at what's slipping away from them.
Not only promotion, but new contracts, pay rises, bonuses, I don't want to monetise it but that is always an incentive, especially in a short career like football.
In a year where we've been hit by Covid-19, and we know that Pompey haven't inked off in terms contracts yet, but if these players get Pompey into the Championship, you'd think a lot of them would have a case to get new deals and pay rises.
But I don't just think it's that, it's personal pride and personal achievement.
Footballers want to play as high as they can and look back on their career when they've retired with pride. It's promotions that you remember. That's what you think about at the end of the day.
Gareth Evans said it when Pompey were back in League One for the first year, you don't remember consolidating in League One, you remember the highs, and Pompey have still got a chance to achieve that.
They need to remember that.