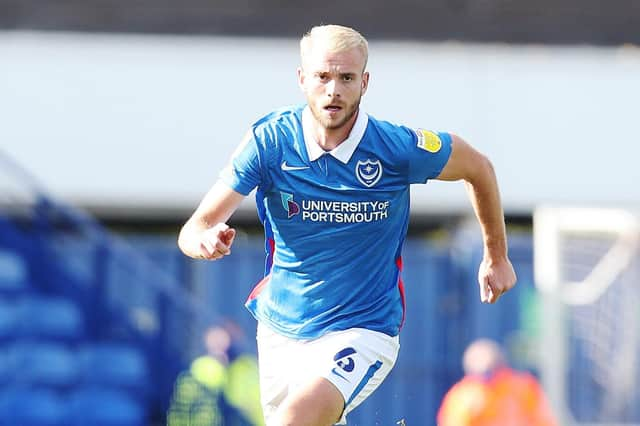 Pompey favourite Jack Whatmough is among 10 players out of contract at the season's end. Picture: Joe Pepler
There are 10 Blues players whose deals expire at the season's end, among them Tom Naylor, Craig MacGillivray, Jack Whatmough, Ben Close and Ryan Williams.
Mark Catlin has revealed some of the 10 have been informed of the club's desire to extend their stay.
However, with the PFA currently in arbitration with the Football League over the controversial introduction of League One and League Two salary caps, contract progress has reached an impasse.
Players and clubs are awaiting the outcome of such discussions to discover the wage levels they can operate at.
There remains the possibility the salary cap could be scrapped or amended, thereby boosting the ability to improve player deals.
As a consequence, contract movement from all parties has paused.
Catlin told The News: 'We are speaking informally and sounding out our players.
'There are certain ones we have within our squad that we're looking to extend current terms – but cannot do that at the moment given the salary cap restrictions.
'Until we know how the arbitration will go with the EFL and PFA – and whether the salary cap is still going to be around in its current form come the end of the season – it's difficult to get players to commit.
'Players could be offered a massively-reduced wage – or the salary cap may have tweaks and amendments to improve it. It could even be thrown out altogether at arbitration.
'As a result, both players and clubs are playing a wait-and-see game at the moment.
'Why would a player at this moment in time agree to an extension on maybe half of what they are already on?
'Whereas the club will rightly say that's all we can offer because of the salary cap.
'Of course, there is a chance that the salary cap could be amended or even completely abolished given the results of the arbitration.'
In addition to Naylor, MacGillivray, Whatmough, Close and Williams, also out of contract next summer are first-team pair Andy Cannon and Bryn Morris.
The deals of promising pair Haji Mnoga and Harvey Rew are up too, although the Blues possess 12-month options on each.
Completing the 10 is Duncan Turnbull, Pompey's third-choice keeper who has occupied the bench five times this season.
Catlin added: 'I know the PFA and EFL are speaking.
'It is ongoing, I am not Mystic Meg when it comes to knowing the outcome. I suppose there's also the potential to go to court.
'That's one of the points we have argued. Contracted players pre-salary cap vote should be treated at the divisional average for as long as they remain at this club.
'Regardless, I would hope it will be resolved this year.'
A message from the Editor, Mark Waldron
Thank you for reading this story. The News has launched a new subscription offer which gives you unlimited access to all of our Pompey coverage.
Every subscription helps us continue providing trusted, local journalism on your behalf for our city