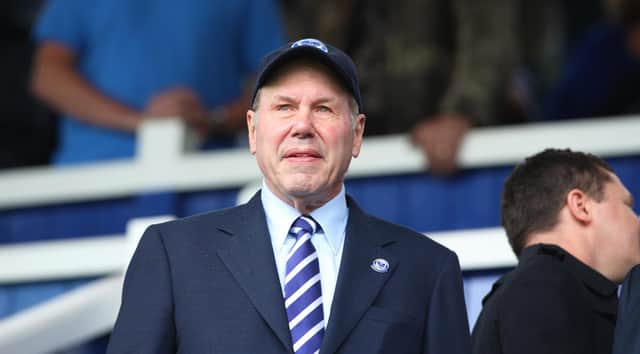 Pompey chairman Michael Eisner
And the overriding message is clear – keep the Cowleys and give them the funds to rebuild.
It prompted the Blues chairman to tweet: 'Still in the playoff race. Need to finish strong. Play up #Pompey.'
Yet his bid to appear positive amid worrying times in that battle to secure a top-six finish – and provide a bit of a rallying cry ahead of the remaining five games – backfired.
Instead, sections of the Fratton faithful used the opportunity to respond with their own views on the current predicament – verdicts which will have made for hard reading.
Indeed, many told the American billionaire that the side inherited by new coach Danny Cowley simply wasn't good enough for the job he was brought in to do in March – secure a play-off place,
And with the new boss' position unclear beyond the end of the season, calls were made to make Cowley's appointment permanent so he could start building for the future beyond League One.
@LewPeet replied by saying: 'The players aren't good enough unfortunately Michael.
'Please back the Cowleys, we believe in them, we need them to rebuild the team.'
@danieledmunds4 said: 'Fans want Cowleys to stay and that's after a defeat!!!!
'Very few of the players deserve to wear the shirt, let the Cowleys build a squad of players that they want and roll on the first Danny and Nick's blue and white army!!!!!'
'Give Cowleys long term deal and the chance to rebuild and we will be a force to reckon with next season,' was a response posted by @Clarkeyboy12345.
@HowsegoPhil followed that up by messaging Eisner with this response: 'A squad over haul necessary, funds for quality signings, especially finishing in the final third. Cowleys suit Pompey mind set moving forward I think.
'But a reality check required of existing players, especially those out of contract.'
@Rory_f_jackson continued the debate by adding: 'Stick with these boys Michael. They get it.
'Players are letting us all down badly, and we need to address that this summer with contracts expiring. Let's stick together. Play up Pompey.'
@rich_grazier pleaded with the chairman by saying: 'Please give them the time to rebuild a team in their image.
Meanwhile, @HarryGardner26 joined the debate by stating: 'Please just listen to Cowley and let him use the players he can and release/sell the rest, lots of quality in their but a fair amount of dead weight as well.'
Some also used the opportunity to criticise directly previous recruitment under former manager Kenny Jackett and the time it took the club to make a managerial change.
@SteveSheppard2 wrote: 'Poor recruitment coming home to bite. No attacking threat. Change of manager at least a year too late. Worst team for about 7 years.'
@ethelmurmanknee responded by saying: 'Lack of quality in the side.
'Definition of insanity keep repeating and expecting differing results.
'KJ fails and yet you bring him back this season. Cheap Jan windows fail to bolster last few seasons same again.
'Club needs an overhaul top to bottom.'
@SteveSt94352512 added: 'Sadly the change came too late and now the Cowleys are expected to make a silk purse out of a sow's ear.'
Others also used the opportunity to ask Einser to bolster the funds needed to make Pompey serious title contenders next season, irrespective of who would be in charge.
@MattPFC said: 'I'm begging you to give us some serious funds this summer or else we'll be in league one for at least another 2 years.'
'Open the war chest Michael,' replied @JHancock46.
Meanwhile, @IanWats14143334 added: 'Spend some serious money and I'll take you seriously Michael.'