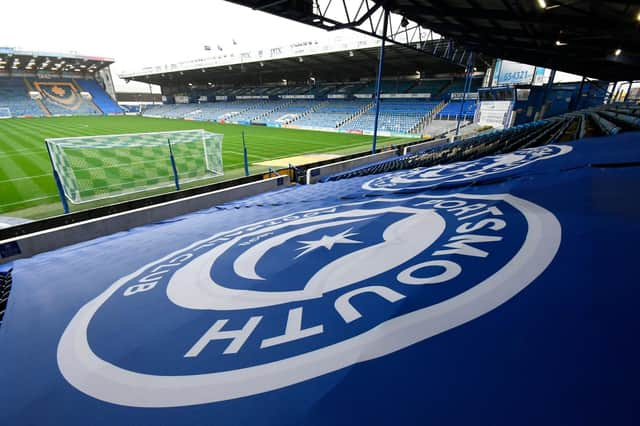 Fratton Park. Picture: Graham Hunt
We'll have all the latest from Pompey and around the EFL throughout the day...
Portsmouth news and transfer LIVE: the latest from the League One while Blues boss eyes swap deals
Last updated: Friday, 05 June, 2020, 16:11
League One clubs to vote on season on Tuesday
2019-20 campaign likely to be curtailed and decided via points per game
Good morning
Welcome to our live blog. We'll be bringing you all the latest updates at Pompey and in League One throughout the day
Swaps a possibility
There's not going to be a lot of cash around during the next transfer window - and Jackett believes clubs will have to be smarter how they conduct their business
A frank admission from John Curtis
The play-offs are looking more and more likely for Pompey
Pompey are ready to step training up
The Blues have been social distancing while training at their Roko base. Close contact now expected from Monday. Read more below
Pompey are ready to begin close-contact training ahead of the season's likely resumption.
Things are beginning to gear up
Pompey are stepping up their training programme - and now their potential play-off opponents are
Peterborough have given up hopes of promotion
Posh director of football Barry Fry has been canvassing clubs in the hope they'll vote for Tranmere's proposal of a points-per-game method with a margin for error.
He knows it's now futile trying further.
Fry told the Peterborough Telegraph: 'There's no incentive for the teams set to contest a four-team rather than an eight-team play-off and the teams at the bottom are not interested either.
'Tranmere's proposal includes a 25-team League One next season which means solidarity money would be reduced as it would split 25 ways instead of 24 and clubs reckon they can't afford that. Clubs are also claiming they would have to pay £90K to help fund the rest of the season and they don't want to do that.
'It's a big shame, but at least we had a go. Indeed the passion and commitment our chairman has shown throughout this time has been second to none. I feel for him, his co-owners, the manager and players, and the fans. This whole process has been allowed to drag on too long. I'm not sure all the clubs have studied the detail in the proposal. They will all still act in their own interests.'
Taylor extends Oxford loan ahead of play-offs
Oxford suffered a blow when Nathan Holland was recalled by West Ham ahead of a potential play-off clash with Pompey.
But the U's have today been informed that striker Matty Taylor, on loan from Ipswich, will be available for the remainder of the campaign.
The striker has scored 17 goals this season - including Oxford's late equaliser in their 1-1 draw at Fratton Park in November.
Read the full story on Peterborough's position ahead of Tuesday's vote