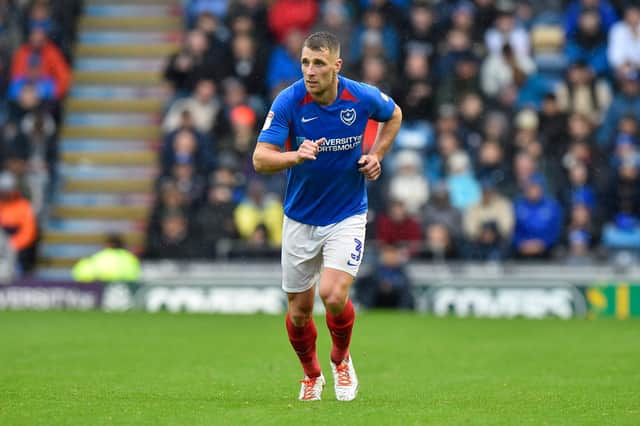 Lee Brown, seen here last season, opened Pompey's scoring in today's 2-0 friendly victory over Norwich under-23s. Picture: Graham Hunt
Kenny Jackett's side netted through free-kicks delivered by Lee Brown and Ronan Curtis during a four-minute first-half spell.
That was enough to defeat the Championship club's youngsters on a training pitch at the Five Lakes resort in Maldon this morning, amid intermittent rain.
The Blues had spent the week at the venue they previously stayed at during pre-seasons in 2013 and 2014.
The club had kept their Essex presence under wraps, although supporters John Westwood and Simon Milne had managed to track them down and were in attendance for the match, albeit maintaining a distance.
Jackett had elected to field different teams in each half, with squad numbers bolstered by three Academy players plus three third-year scholars.
They were scheduled to line up in the second half alongside the experience of Andy Cannon, Gareth Evans, Jack Whatmough and Craig MacGillivray as Pompey rotated their numbers.
For Jackett's starting XI, Paul Downing partnered Sean Raggett in defence, while Tom Naylor was back as skipper and alongside Bryn Morris in midfield.
Ryan Williams was employed as the number 10, with John Marquis the lone striker and Ronan Curtis and Marcus Harness on the flanks.
Injuries ruled out Ellis Harrison, Reeco Hackett-Fairchild and Ben Close from the action, while no triallists were on display.
When the match got underway, Norwich had the first glimpse on 20 minutes after Bass couldn't hold the ball, but a brave block by Downing, followed by interventions from Lee Brown and James Bolton thwarted the danger.
Moments later, Marquis drew an excellent save from the Norwich keeper following a far-post header from Brown's left-wing cross.
However, on the half-hour mark, Pompey did take the lead, with Brown again involved.
The left-back launched a powerful left-footed 20-yard free-kick which beat the goalkeeper at his near post, making it 1-0.
Pompey doubled their advantage just four minutes later, once more from a free-kick.
With Marquis fouled on the right, Curtis stepped up with a delightfully curling right-footed shot into the far corner.
Norwich almost struck back immediately, albeit through Downing's diving header from a right-wing cross, which Bass had to tip over to prevent a spectacular own goal.
Jackett made 11 changes at the break, with the Blues clutching a 2-0 lead.
MacGillivray was called into action early on with two excellent stops to preserve their advantage as Norwich pushed.
However the scoreline remained 2-0 as the Blues kicked off pre-season with victory.
First half: Bass, Bolton, Downing, Raggett, Brown, Naylor, Morris, Harness, Williams, Curtis, Marquis.
Second half: McGillivray, Kavanagh, Mnoga, Whatmough, Rew, Storey, Cannon, Brook, Evans, Teggart, Stanley.