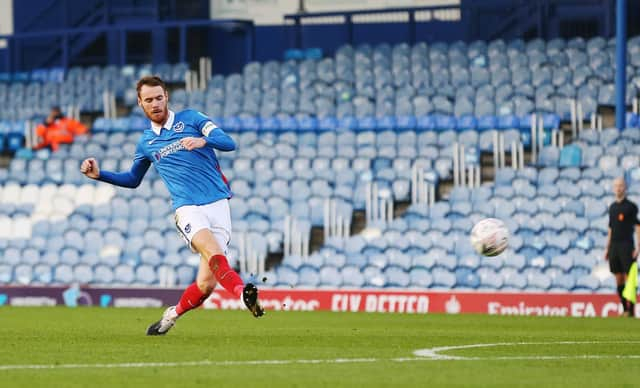 Tom Naylor netted one of the best goals of his career in this afternoon's 6-1 victory over King's Lynn. Picture: Joe Pepler
The non-leaguers were this afternoon dispatched 6-1 in the FA Cup second round – with six different Blues players getting on the scoresheet.
Among them was Naylor, representing his fourth in five matches during a golden spell of golden scoring for the defensive midfielder.
His 20-yard first-time shot was sweetly struck and handed Kenny Jackett's men a 2-0 lead after 30 minutes.
And in a career which has so far produced 26 goals, the 29-year-old has pinpointed that King's Lynn finish as one of his finest.
He told The News: 'It is one of the best, I don't score many like that.
'I haven't really scored that many throughout my career. I play as a defensive midfielder and when they pop up like that it was perfect the way it came off my boot.
'It always looks better when it hits the bar. I was really pleased with that one.
'All my goals have come through that side of the box. When it comes to me, I don't like to smash it, I like to try to place it, and they have come off over the last few weeks.
'At Ipswich there was a deflection, but all my goals after that have been placed, bottom left, bottom right or top.
'I don't know why it's happening for me now, I'm just getting into areas I feel confident and shooting.
'I'm not an attacking midfielder who scores goals and assists.
'I'm a defensive midfielder who always breaks play up - and if I add goals to my game it's a massive bonus to me.'