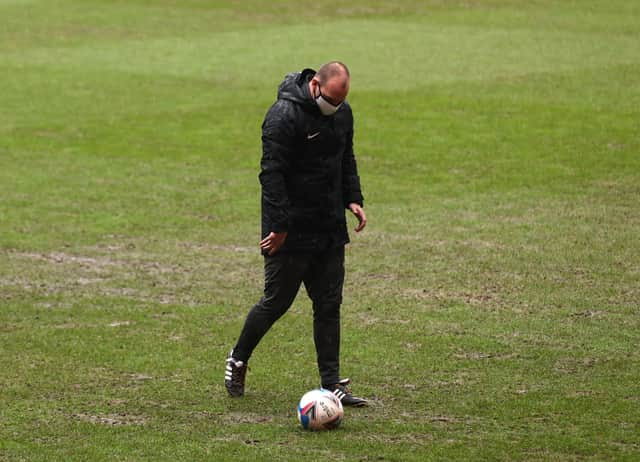 Bobby Madley checks the Valley pitch during his second inspection this afternoon. Picture: Steven Paston
The Blues turned up at The Valley this afternoon to be warned their fixture with Charlton was under threat.
Following heavy overnight rain, which had continued to fall today, match official Madley then made the decision to call off the match at 2pm.
Both sides will now return to the Valley on Tuesday night (7pm) for the rescheduled game.
In the meantime, Madley has explained the decision.
He told Charlton's official website: 'There is a lot of thought that goes into it. It's not just about the pitch churning up, it being a bit wet and it's raining.
'This season, it probably makes it more difficult because we want to play as many games as we can. It's a very compact season anyway, so if we can get the games played then brilliant.
'I arrived here around 12.40pm and the club made us aware there was a potential issue.
'There was apparently a lot of standing water on the pitch they'd already taken off. The groundstaff have done a very good job and my primary issue is to make sure it is safe.
'We had a look and there were areas of the pitch that were a concern. Rather than make a knee-jerk reaction, I wanted to see whether it would drain through the pitch, whether it would become a bit harder and wanted to give Portsmouth that respect to come and have a look at it.
'We did another inspection at 2pm and it was quite obvious the conditions actually got worse, so unfortunately we had to call the game off.
'When we threw the ball up, it just stuck in the mud. Again, I've not been a professional footballer, but when the ball bounces I assume a player is going to take that into account.
'What we didn't want was the ball to stick and, when a player makes a challenge expecting a bounce, he takes the knee rather than the ball.
'The safety of the players is what we have to consider. It's still a long season and we have got to be sensible.'
While senior players Tom Naylor, Sean Raggett and John Marquis also tested the surface, while their team-mates watched from the sidelines.
Madley added: 'It was important we allowed Kenny Jackett to come in and look at the pitch.
'I'm sure both managers wanted the game on, but it makes my job easier when they say the safety of the players is the most important and it makes sense to cancel this.'
A message from the Editor, Mark Waldron
The News has launched a new subscription offer which gives you unlimited access to all of our Pompey coverage, starting at less than £1 a week.