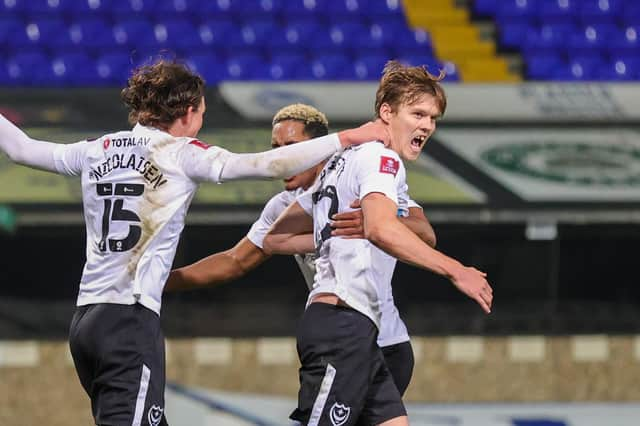 Sean Raggett celebrates his winner at Ipswich. Picture: Nigel Keene
The Blues defender believes the Blues are receiving unfair flak from the knockers who continue to criticise his side, despite their success.
Pompey made it six away wins on the bounce at Ipswich Town in the FA Cup on Saturday - their best run of results on the road in 13 years.
Raggett pointed out the win forms part of a lengthy run of consistent form stretching back through 2020.
And he can't fathom why his side face such criticism when results are arriving.
He said: 'It's really strange. I see a lot of negativity towards this team online and I find it really odd.
'For the last year now, our form, our record and our points total has been better than anyone.
'So, I do find it a bit strange.
'There's a new stat now that it's our best winning away run for 13 years.
'So I'm not sure really why there's so much complaining.
'The team are performing well and getting really good results.
'You look at wins at places like Lincoln and Sunderland. Then there was Gillingham which is a hard place to go.
'They are tough games which we have come through, so I think shows that this team is more than capable of doing well in this league.'
Raggett has found himself on the receiving end of plenty of disapproving comments from supporters this season.
But the defender has difficulty comprehending those who attack the quality of football being played - pointing to recent wins as evidence Pompey do entertain.
Raggett added: 'I think the people who talk about the style of football weren't at the Sunderland game and didn't see the game on Tuesday night at Lincoln. That's my opinion.
'I don't let the negativity bother me, personally.
'Sometimes I struggle to understand that, but you just try to block it out.
'We know we're a good side and what we're capable of achieving this season.
'You don't try to look into it too much and you let everyone have their opinions.'We just want to show everyone what we're about - and what this team is about.'
A message from the Editor, Mark Waldron
The News has launched a new subscription offer which gives you unlimited access to all of our Pompey coverage.
You can subscribe here to get the latest news and transfer updates from Fratton Park - and to support our local team of expert Pompey writers.