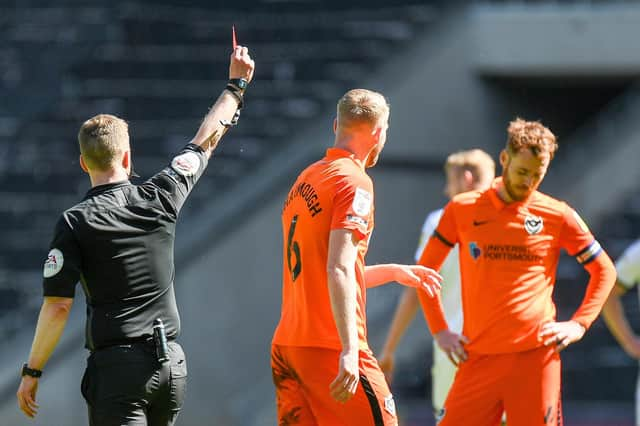 Jack Whatmough picked up a red card for his 80th-minute challenge on MK Dons substitute Charlie Brown.
The Blues who had Jack Whatmough sent off on 80 minutes, went down 1-0 at MK Dons today.
A second defeat in three games, it left their play-off hopes hanging by a thread – and the Fratton faithful questioning what's best for the best as morale begins to sap.
Here's a selection of the views shared on Twitter...
@jimbopowers91: I'd be furious if I was Cowley.
They press and break the lines well as he's clearly set them out to do only to have sloppy passing in the final 3rd.
Your most senior player getting schooled by a kid and your most promising CB being sent off completely unnecessarily.
@MikeTattooed: Pompey imploding at the wrong end of the season.
Players know the squad has no depth bit STILL make ridiculous decisions that end in red cards.
Maybe the end of a busy season was not the time to change to a high tempo game style! Tired minds?
@ConnorPFC1997: Danny Cowley needs a clean slate and a massive summer clear out and be backed by the owners in the summer to get better players in.
@scottpompey: Seasons done then, get rid of this squad and let the Cowleys pick there team in the summer.
@Shovell96: I do think Cowley will be here next season and that's fine, but the summer transfer window is huge.
Could do with a whole new squad bar a handful. Rip it up from top to bottom.
@ChrisMoat96: Really frustrating from Pompey today.
Some extremely poor decision making from some of our players.
Too many injuries and suspensions now, can't see us finishing in the play offs.
@TonyDogTrainer: Hard to remember Pompey were top at Christmas. Looking a spent force now.
@stevenphillips7: Season is now over, surely.
The Cowleys & most of the squad will be moved on, leaving us facing yet another summer rebuild.
Why are we never able to build a foundation for the future?