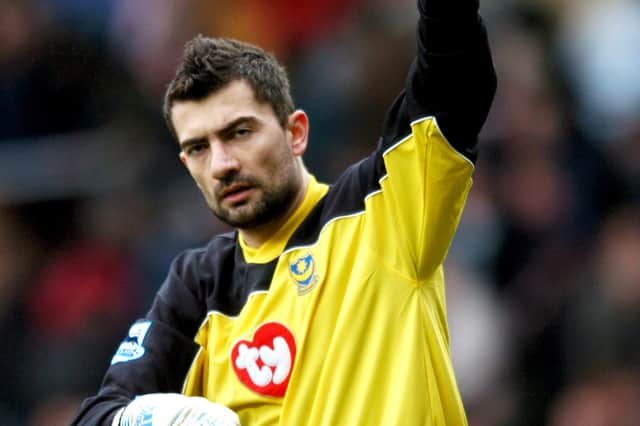 Shaka Hislop has admitted he had a 'bizarre' relationship with former Pompey goalkeeping rival Kostas Chalkias (pictured). Picture: John Walton
And he considers the former Greek international as the worst goalkeeper he ever worked with.
Chalkias remains a much-maligned figure among the Fratton faithful following his ill-fated year with the then-Premier League club.
He displaced the popular Hislop in January 2005, although made just six appearances before being jettisoned.
And also reflects on their 'bizarre' relationship behind the scenes.
'Kostas Chalkias had absolutely nothing to say to me, he refused to utter a single word in my direction for the entire time we shared a Pompey dressing room,' he told Played Up Pompey Three.
'Unsurprisingly, it created the most awkward player relationship I was ever involved in during a 15-year football career.
'It was something I realised early on. The Greek goalkeeper wouldn't even say "Good morning" to me after arriving for training. Similarly, there was never a farewell at the session's end.
'So I made a point of every day going over and wishing him a "Good morning", while at the end cheerfully saying "Bye Kostas, see you tomorrow" – and he would totally blank me. Not once did he reciprocate the greeting, not once.
'There were times when he was in the treatment room and I would race over and say "Morning Kostas", with nothing in response. To me it was hilarious, I kept thinking "Surely this man can't be that weird?".
'It was the most bizarre thing I had ever experienced, so I decided to make a point of greeting him every single day!
'Goalkeepers work closely together, the goalkeeping union it is called. At times, especially at the beginning of my career, not every club had a goalkeeping coach. On the occasions we did have a coach, he wouldn't always travel to away matches.
'Instead the two keepers would warm each other up on the pitch before the game, while talking to each other through the 90 minutes. That's how the relationship is supposed to be.
'Then, in January 2005, Chalkias entered the building – and if I was on fire he wouldn't have thrown a bucket of water over me.
'He spoke English, he talked to everybody else in Pompey's dressing room, yet refused to utter a word to me.
'Obviously we were rivals for a starting spot in Velimir Zajec's side following his recruitment from Panathinaikos for £100,000, but he actually wasn't very good.
'It was justified to me that Chalkias was taking my place because he was the goalkeeper of a Greece side which won the 2004 Euro Championships six months earlier. The fact was, he didn't play a minute of that tournament in Portugal – he was second choice.
'That is some attempt at trying to sell the quality of a goalkeeper when you're using that as your claim to fame.
'Without question, he was the worst goalkeeper I ever worked with. I spotted it in training on his first day, immediately I knew he wasn't very good.
'In terms of goalkeeping, I am all technique. I don't think I was that talented, but was good technically, so that was a big part of my game. Whereas Chalkias was very unorthodox.
'I understand people do things differently, but in regards of what I felt was good goalkeeping technique, he didn't have it.
'It's the way you dive, the way you get up, there's a certain manner in how that must be carried out, and he was too unorthodox. You have to be good in training if you want to be good in the long-term and, watching him in that first training session, I couldn't see talent.
'This was going one way. As it turned out, he was handed six successive starts following his arrival, then never played for Pompey again, released by mutual consent, just short of 12 months at Fratton Park.'
Shaka Hislop appeared 100 times for Pompey, featuring from July 2002 until June 2005, and won the Division One title in 2002-03 under Harry Redknapp.
Played Up Pompey Three is priced £18.99 and currently available from Waterstones, the Pompey Store and The Petersfield Bookshop.
For player-autographed copies, with the signatures of Benjani, Richard Hughes, Michael Doyle, John Durnin or Dave Munks, email [email protected]
A message from the Editor, Mark Waldron
Thank you for reading this story. The News has launched a new subscription offer which gives you unlimited access to all of our Pompey coverage.
Every subscription helps us continue providing trusted, local journalism on your behalf for our city.