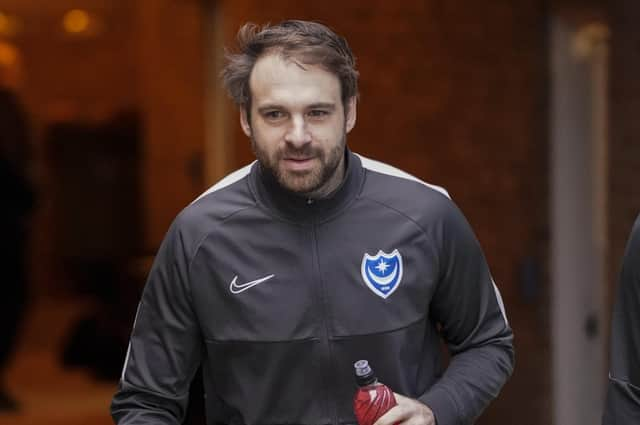 Brett Pitman. Picture: Jason Brown
Adam May and Matt Casey were within their right to put all their focus on finding a new home during a summer that's already going to be difficult for free agents.
Yet the trio have all declared themselves available for the League One play-offs – despite their imminent releases from Fratton Park.
Pitman, May and Casey have all penned short-term extensions to their contracts even though they're not training with Kenny Jackett's men ahead of next week's semi-final clash against Oxford United.
And all three deserve much credit for committing to the cause.
In truth, it's unlikely any of the three will be required for the upcoming matches against the U's – although you never know with Pitman.
Pompey are already working with a group of 25, meaning there'll be five players omitted from Jackett's squad when Karl Robinson's men visit Fratton Park on Friday, July 3.
But, just in case, the three have offered their services should the need arise.
Brett Pitman. Picture: Jason Brown
In terms of natural finishers, without doubt he's the best the Blues have to offer.
With 43 goals in 99 appearances, no Pompey player this decade has bagged more times.
But the fact he's not rebuffed the improbable opportunity to be brought back underlines he still cares about the club where he's still adored by fans aplenty.
Always confident he can grab a goal, the fairytale scenario of being introduced with 10 minutes remaining at Wembley and snatching the winner to send Pompey back into the Championship will remain tempting.
That would truly etch Pitman's name into Fratton folklore.
May hasn't been required to report back to training, with Bryn Morris now fully fit and Tom Naylor, Ben Close, Cameron McGeehan and Andy Cannon also ahead in the central-midfield pecking order.
Yet the 22-year-old remains available for the club who've provided him with his footballing education.
Casey's in the same boat, with Jackett well covered in central defence after Christian Burgess and Sean Raggett were both handed the green light to feature.
In fairness to Luke McGee, who turned down a short-term extension, there was no need for him to remain.
He's witnessed Craig MacGillivray, Alex Bass and most recently Duncan Turnbull leapfrog him in the goalkeeping department since arriving from Spurs in 2017.
A fresh start and getting his career back on track is what he badly covets. Who can blame him for wanting to leave as soon as he could?
For Pitman, May and Casey, it wasn't a case of them getting a few more weeks' wages before being out of work.
They'd get a month's severance pay in July regardless.
But the door remains ajar should Jackett need to pick up the phone – and they should be saluted.