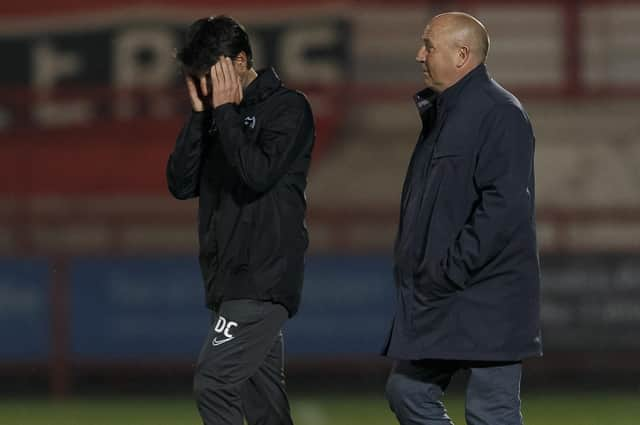 Danny Cowley cut a dejected figure after Tuesday night's final whistle, flanked by Accrington boss John Coleman. Picture: Daniel Chesterton/phcimages.com
For Danny Cowley, the wounds of Accrington Stanley remain raw.
Attention may be fixed on conquering AFC Wimbledon on Saturday to maintain Pompey's stuttering play-off ambition.
For Cowley, regardless of that grievous 3-3 outcome, his passion for football – and his Pompey goal – refuses to diminish.
He told The News: 'Only football can do that to me,
'I'm normally a really calm, cool, collected guy, but football can take you places that you didn't know existed. I suppose that's why we love it.
'The moment that Johnny Marquis scored, the high and the feeling, I could just feel the Pompey supporters dancing around their living rooms, screaming at their computers - and we felt exactly the same.
'We had the game sealed and secured, we were in their corner with 45 seconds to go. Then we gave a free-kick away with five seconds left and the feeling when Accrington scored. Oh my God, the despair.
'We have all lived it haven't we, because we all love football. That feeling in your stomach. Horrible, horrible, horrific.
'Just the worst, worst feeling and you know it's going to hurt you. You are going to wake up with it over the next however many days.
'But that's what it is and is why I love football.
'Have you ever read Bobby Robson's quote about a young boy walking up the stairs? He's talking about St James' Park with his dad holding his hand and looking out onto the pitch for the very first time and instantly falling in love. I love that quote.
'No matter what it does to us, no matter where it takes us, now matter how it makes us feel, it's football. The greatest game in the world.'
For all the passion felt within a match, however, Cowley believes a manager must retain a level of 'non-emotion' on the sideline.
And he has stressed the necessity to focus on the challenge, rather than be swept off course by emotions.
He added: 'During the game you have to be non-emotional and I think we are quite good at doing that.
'When I say non-emotional, you have to manage with a really clear head.
'We all know if you get emotional, your focus gets narrower and narrower and you see less and less, so you have to stay non-emotional.
'That doesn't mean that you don't show emotion, because sometimes in the game they (the players) actually need your emotion, especially if there are no supporters.
'You have to decide what the game needs – but even if you are being emotional, it's with control.'
A message from the Editor, Mark Waldron
The News has launched a subscription offer which gives you unlimited access to all of our Pompey coverage, starting at less than 14p a day.